Win a Break for Two in Renvyle House Hotel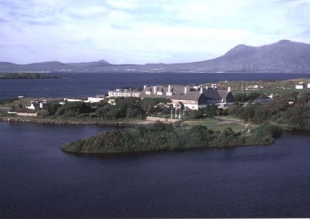 In one of the country's most appealingly remote and beautiful areas,
Renvyle House Hotel in Renvyle, Connemara, Co Galway
is a famous Lutyens-esque house that has a romantic and fascinating history, having been home to people as diverse as a Gaelic chieftain and Oliver St John Gogarty - and it became one of Ireland's earliest country house hotels, in 1883.
In good weather it is best approached via a stunning scenic drive along a mountain road with views down into a blue-green sea of unparalleled clarity.
Once reached, the 68 bedroom hotel seems to be snuggling down for shelter and, although it has limited views, there is a shift of emphasis to the comforts within, a feeling reinforced by the
cosy atmosphere
of the original building, with its dark beams, rug strewn floors and open fires - and a snug conservatory where guests can survey the garden, and the landscape beyond.
There's activites aplenty
including a heated outdoor swimming pool, tennis, trout fishing, golf (9 hole), and croquet - while the surrounding area offers more challenging activities including archaeological expeditions, horse riding, hill walking, scuba diving and sea fishing.
Just
loafing around is perhaps what guests are best at here
, however, and there's little need to do much else. The hotel's bar food and light meals in the conservatory are very enjoyable during the day and this is a great place to plan a break when touring the area - all this, plus the scent of a turf fire and a comfortable armchair, can be magic.
The grounds and gardens around the hotel are a special point of interest at Renvyle, and come as a delightful contrast to the magnificently rugged surrounding scenery.

Dinner at Renyle is an occasion to be relished
- the large dining room - which is cannily organised with a window along one side where parents can see their children in the supervised playroom next door - is formally appointed and there is a pianist at the grand piano every night, adding to the sense of occasion.
Head chef Tim O'Sullivan's menus feature local seafood and Connemara produce, including Renvyle rack of lamb, local lobster and vegetables in season - and his
cooking is spot on
The lucky winner of this free competition will have a short break for two people sharing (subject to availability), to include:
• 2 nights B&B
• Dinner one evening
Read more about Renvyle House Hotel on their website
.


To enter the competition simply tick the answers to the questions below, you must be a logged in member to enter (if you are not a member click here to join, it's free):