Places To Stay by Tourist Area The Burren
Found 10 matches, showing 1 - 10 below.
Set in pretty gardens on the edge of Lisdoonvarna town, this old hotel was re-opened by Aidan McGrath and Kate Sweeney in 2009. They renamed it The Wild Honey Inn, and the world wasted no time in beating a path to their door. A well known chef, Aidan ...
more...
James and Carol Cullinan's stylish and comfortable little restaurant overlooks the Aille river, where you may even be entertained fishermen fly fishing while you enjoy your meal. The Cullinans are known for their hospitality, the care and simplicity o ...
more...
In addition to offering simple joys like warming turf fires and unparalleled views across the Burren landscape, this quietly luxurious country house has earned a reputation in recent years as one of Ireland's top food destinations. The present h ...
more...
Country House / Restaurant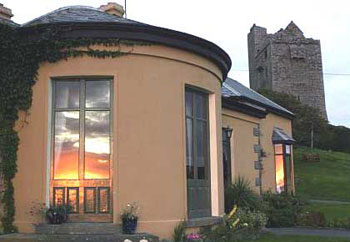 Well away from the bustle of Doolin and Lisdoonvarna, with wonderful views of the Atlantic and the West coast, Declan O'Callaghan's unusual property is easily identified from afar by the 15th century castle standing on it. With its welcoming fire, wel ...
more...
Mary Kelleher's neat farmhouse enjoys a lovely view of the Clare countryside and was originally a teacher's residence (the theme is seen throughout). It now makes an hospitable and inexpensive base for exploring this fascinating area, and regular visit ...
more...
Just outside Doolin, and commanding dramatic sea views across to the islands, the heart of the Linnane's family-run hotel is an eighteenth century house. It makes a good base for a family holiday - it is only a mile to a good beach, there is sea-anglin ...
more...
In the centre of traditional Doolin village, this privately owned hotel is outstanding for its contemporary style - and a vibrant local food philosophy that has earned it a reputation beyond the county. In fact you may well come across it through its ...
more...
Set back from the flag-stone shore and looking onto the cliffs of Aughinish, you enter another place at Mount Vernon, a magical country house whose owners, Mark Helmore and Aly Raftery, seem to have a special empathy with it. Named after George Washin ...
more...
Just along the shore road towards Galway, Armin and Bernadette Grefkes' attractive purpose-built accommodation makes a comfortable and moderately-priced base for a break in this lovely area and it is a delightful place to stay. Being a little outside ...
more...
Country House / Hotel / Restaurant
John and Martina Sheedy run one of the west of Ireland's best-loved small hotels - it offers some of the most luxurious accommodation and the best food in the area, yet it still has the warm ambience and friendly hands-on management which make a hotel ...
more...