Places To Learn by Tourist Area: Wild Atlantic Way
Launched in spring 2014, the Wild Atlantic Way is a 2,500 km coastal route that invites the visitor to explore Ireland's dramatic western seaboard. Flagged as 'the world's longest coastal drive', thanks to the many headlands and inlets that beg to be investigated along the way, it aims to highlight the most dramatic landmarks and attractions while also making it easier to find the interesting little out of the way places that might otherwise be by-passed. It can be joined at any point and is divided into five sections, the first being Donegal in the north, with the other four (Donegal-Mayo; Mayo-Clare; Clare-Kerry; Kerry-Cork) leading you right down the Atlantic seaboard to the southern counties of Cork and Kerry. A simple route map is available on discoverireland.ie where full information on each section is given, including activities and key 'discovery points'. The very distinctive bright blue 'wave' road signs make it virtually impossible to get lost - and we have plenty of suggestions for the best places to eat, drink and stay along the way, many of which are run by people who know the west coast back to front and will help visitors to find a genuine sense of discovery along this beautiful and fascinating coastline.
Found 10 matches, showing 1 - 10 below.
Near the coast of west Clare, between Kilkee and Lahinch, this attractive Victorian country house is set in well maintained gardens. It was the family home of the owner, Rita Meade, who ran it as a restaurant with accommodation from 1994 and, more rece ...
more...
Classes/Courses / Hotel / Restaurant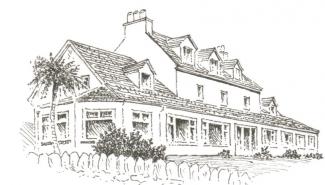 Martin and Marguerite Howley's beautifully located clifftop hotel has wonderful sea and coastal views over the ruined castle after which it is named. It is a comfortable and relaxing place to stay, with a little bar, a residents' sitting ro ...
more...
In their brochure, John Desmond and Ellmary Fenton describe their restaurant as unusual, in a unique and beautiful setting. This is an understatement; their Island Cottage Restaurant is extraordinary by any standards. You have to get there and back by ...
more...
Good Things, on the outskirts of Durrus village, is much more than a café. Carmel Somers, chef, teacher and food writer (her first book, "Eat Good Things Every Day", is well worth seeking out), does more than any other chef in the re ...
more...
Madeline McKeever, who is also involved in Irish Seed Savers, grows her own organic vegetable, herb and edible flower seeds on her West Cork farm. Events are occasionally held on the farm, where they sometimes have their own Ardagh beef for sale. Goo ...
more...
At her purpose built cookery school just outside Donegal Town, Sian Breslin and an experienced team offer a range of cookery courses to suit varying skill levels, and can cater for up to 18 students per class. A daytime Afternoon Tea class is offered ...
more...
Cookery School / Fruit & Veg / Honey / Meat & Game


Paul and Georgiana Keane's beautiful island estate makes a lovely setting for interesting cookery classes, which may showcase produce from their orgnic farm. Bespoke classes can be arranged for guests staying on the estate, including children, and grou ...
more...
Described by Darina Allen as "the patriarch of the artisan cured meat industry in Ireland" and joint recipient (together with Bill Hogan and Sean Ferry's thermophilic West Cork Natural Cheeses) of the inaugural Euro-Toques Food Awards ...
more...
Well known to viewers of BBC2's Big Bread Experiment series, Patrick Ryan is a thoughtful high achiever and this talented lawyer-turned-chef-and-baker was just the man to bring an imaginative and highly appropriate business venture to the quiet l ...
more...
Responding to the fact that keeping salt levels low is a major issue for people like himself with heart problems, the 'No Salt Chef' Brian McDermott opened Ireland's first salt-free cookery school in summer 2013. Here, in his home to ...
more...
Best Places to Learn for...