Dublin Hotels
Dublin Hotels - find the best here:
Dublin like any capital city has a huge array and variety of hotels to suit the most budget conscious or affluent visitor. Our recommendations cover all the different ranges of hotels and you can rest assured that no matter what price band they fall in these hotels in Dublin will be amongst the best in their class. We at Georgina Campbell's Guides are particularly fond of those Dublin Hotels that are family run or long term managed that also have character and an element of uniqueness.

Please note that these Dublin Hotels are all within the Dublin City boundary, there are also some great hotels in the suburbs of County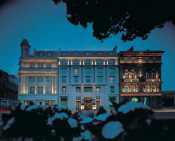 Dublin that offer something different to the Dublin Hotels such as a seaside location that may only be a short train ride from the city centre, these can be found through the search on the left of the page..

Please browse the Dublin Hotels below and where possible you can also make a secure online booking.

* For other accommodations such as B&Bs or guesthouses and for the best restaurants in town please use the search box on the left of the page.


Dublin Hotels that we recommend:
Dublin City Centre Hotels
North City Centre
Clarion Hotel Dublin IFSC €€€
This dashing contemporary hotel on the river side of the International Financial Services Centre was the first in the area to be built specifically for the mature 'city' district and its high standards and central location have proved very popular with leisure guests, as well as business guests and the financial community, especially at weekends.

Belvedere Hotel Dublin €€
Spacious, comfortable and inexpensive, the Belvedere Hotel provides centrally located accommodation (with free broadband) to suit both business and leisure travellers

The Gibson Hotel €€
Housed in a sparkling glass and steel building that fits right in with its shiny IFSC neighbours this glamorous new hotel has been designed to attract more then just business travellers.

The Gresham Hotel €€€€
This famous hotel has been at the centre of Dublin society since the early nineteenth century and is one of the city's best business hotels.

Jurys Custom House Inn €€
Right beside the International Financial Services Centre, overlooking the Liffey and close to train, Luas and bus stations, this hotel meets the requirements of business guests with better facilities than is usual in budget hotels.

Jurys Inn Parnell Street €€
A useful city centre budget hotel north of the Liffey, offering the value expected of Jurys Inns.

The Morrison Hotel €€€€€
Centrally located on the north quays, close to the new Millennium Bridge over the River Liffey, this luxurious contemporary hotel is within walking distance of theatres, the main shopping areas and the financial district.

Wynns Hotel €€
Traditionally a country people's hotel in Dublin city centre, this affordable, three-star hotel is just off O'Connell Street, with the Luas stopping just outside its door.

Best Western Premier Academy Plaza Hotel €€
This newly refurbished Dublin hotel is tucked away just off busy O'Connell Street, and is within easy reach of nearby train, DART and bus stations.

Maldron Hotel Smithfield €
Offering great rates for accommodation in Dublin, the Maldron Hotel Smithfield is only a minutes walk from what is historically Dublin's most famous street, O'Connell Street and is just across the river from the tourist district of Temple Bar.



South City Centre

Alexander Hotel €€€
Very well situated at the lower end of Merrion Square within a stone's throw of Dail Éireann (Government Buildings), the National Art Gallery and History Museum as well as the city's premier shopping area, this large modern hotel is remarkable for classic design that blends into the surrounding Georgian area quite inconspicuously.

Brooks Hotel €€€€€
One of Dublin's most desirable addresses, especially for business guests, the Sinnott family's discreetly luxurious hotel is a gem of a place - an oasis of calm just a couple of minutes walk from Grafton Street.

Buswells Hotel €€€€
Home from home to Ireland's politicians, this 18th century townhouse close to the Dail (parliament) has been an hotel since 1921 and is held in great affection by Dubliners.

Camden Court Hotel €€€
Complimentary secure parking and a leisure centre with swimming pool are perhaps the two main attractions of this conveniently located modern hotel.

The Clarence Hotel €€€€€
Dating back to 1852, this hotel has long had a special place in the hearts of Irish people - especially the clergy and the many who regarded it as a home from home when 'up from the country' for business or shopping in Dublin.

Conrad Hotel Dublin €€€€
Situated directly opposite the National Concert Hall and just a stroll away from St Stephen's Green, this fine city centre hotel celebrated its twentieth anniversary in 2005 with the completion of a E15 million refurbishment programme.

The Davenport Hotel €€
On Merrion Square, close to the National Gallery, the Dail (Parliament Buildings) and Trinity College, this striking hotel is fronted by the impressive 1863 facade of the Alfred Jones designed Merrion Hall, which was restored as part of the hotel building project in the early '90s.

The Fitzwilliam Hotel €€€€€
This stylish contemporary hotel enjoys a superb location on the north-western corner of St Stephen's Green.

The Grafton Capital €€€
In a prime city centre location just a couple of minutes walk from Grafton Street, this attractive hotel offers well furnished rooms and good amenities at prices which are not unreasonable for the area.

Grand Canal Hotel €€
Smartly maintained and with a secure car park, this business hotel located in the up-and-coming Grand Canal area is ideal for anyone requiring fairly priced quality accommodation within walking distance of Dublin city centre and the Ballsbridge area.

Hilton Hotel Dublin €€€€
Overlooking the Grand Canal, this modern hotel is just a few minutes walk from the city centre and caters well for the business guest.

Holiday Inn Dublin €€€
The Holiday Inn brand may possibly summon up the wrong images for independent travellers, but this centrally located hotel is not only a convenient place for visitors to stay, but has earned a particularly good reputation on several counts...

The Merrion Hotel €€€€€
Right in the heart of Georgian Dublin, opposite Government Buildings, this luxurious hotel comprises four meticulously restored Grade 1 listed townhouses built in the 1760s and, behind them, a contemporary garden wing overlooks formal landscaped gardens.

The Mont Clare Hotel €€€€
A few doors away from the National Gallery, this well-located and relatively reasonably priced hotel is in common ownership with the nearby Davenport and Alexander Hotels.

The Morgan Hotel €€
In deepest Temple Bar, this unusual boutique hotel is characterised by clean simple lines and uncluttered elegance.

Fleet Street Hotel €€
Conveniently situated in the heart of Temple Bar, within easy walking distance of all the city's main attractions, this reasonably priced hotel is fairly small, allowing an intimate atmosphere and a welcome emphasis on service.

Maldron Hotel Dublin €€
Commanding a convenient location on the south bank of the River Liffey in the heart of Dublin city, the Quality Hotel is a landmark building.

Shelbourne Hotel €€€€€
The Irish Constitution was drafted here and this opulent 18th-century hotel overlooking St Stephen's Green (Europe's largest garden square) is still central to Dublin life today (closed for renovations until Spring 2007).

Stephen's Green Hotel €€€
This striking landmark hotel on a south-western corner site overlooking St Stephen's Green is the newest of the O'Callaghan Hotels group (Alexander, Davenport, Mont Clare - see entries).

Temple Bar Hotel €€€
This pleasant hotel is relatively reasonably priced, and handy for both sides of the river.

Trinity Capital Hotel €€€
A stylish hotel right beside the headquarters of Dublin's city centre fire brigade (inspiring the name 'Fireworks' for its unusual club-style bar) and opposite Trinity College.

The Westbury Hotel €€€€€
Possibly the most conveniently situated of all the central Dublin hotels, the Westbury is a very small stone's throw from the city's premier shopping street and has all the benefits of luxury hotels - notably free valet parking - to offset any practical disadvantages of the location.

The Westin Hotel Dublin €€€€€
Two Victorian landmark buildings provided the starting point for this impressive hotel, and part of the former Allied Irish Bank bank was glassed over to create a dramatic lounging area, The Atrium, which has a huge palm tree feature and bedroom windows giving onto it like a courtyard.

Jurys Inn Christchurch €€
Jurys Inn Christchurch is well placed for both tourist and business travellers, offering reasonably priced accommodation within walking distance of the main city centre areas on both sides of the Liffey and close to Dublin Castle and events in Temple Bar.

Radisson Blu Royal Hotel €€
This smart new Dublin hotels in a developing area of the city centre, within walking distance of attractions (Dublin Castle, Trinity College), shopping and entertainment, and features a rooftop terrace that can be used for barbecues.



North Dublin City Hotels:

Clontarf Castle Hotel €€€€
This historic 17th century castle is located near the coast, and convenient to both the airport and city centre.

Croke Park Hotel €€
The first major hotel to be built in this area, Jurys has brought much-needed facilities and is a welcome newcomer for business guests and fans attending events at Croke Park stadium.

Maples House Hotel, Glasnevin €€
Conveniently located near the Botanic Gardens and Dublin City University, this neat double-fronted Victorian redbrick hotel is well lit, with flags to help you find it in a largely residential street.

The Marine Hotel, Sutton €€€
Well-located on the sea side of a busy junction near Howth, this attractive hotel has ample car parking in front and a lawn reaching down to the foreshore at the rear.



South Dublin City Hotels


Bewley's Hotel, Ballsbridge €
This modern hotel is cleverly designed to incorporate a landmark period building next to the RDS.

The Dylan Hotel €€€€€
Formerly the Hibernian Hotel, it is now in new ownership and has been spectacularly renovated - arrival at the gates of Dylan is an experience in itself, especially in the evening, when it is magically lit by old fashioned lamps outside the main entrance, where doormen greet you.

InterContinental Dublin Hotel €€€€
On a magnificent site, set in its own gardens on a section of the Royal Dublin Society's 42-acre show grounds. This allows an exceptional sense of spaciousness while also being convenient to the city centre - the scale is generous throughout and there are views of the Wicklow Mountains or Dublin Bay from many of the sumptuous suites and guest rooms.

Herbert Park Hotel €€€€
This large, privately-owned contemporary hotel is attractively located in an 'urban plaza' near the RDS and the public park after which it is named.

Montrose Hotel €€€€
This south-city hotel near the University College campus has recently undergone extensive refurbishment, including completely updating the exterior; more rooms are now offered to executive standard.

Mespil Hotel €€
This fine modern hotel enjoys an excellent location in the Georgian district of the city, overlooking the Grand Canal and within walking distance of St Stephen's Green and all the city centre attractions in fine weather.

Radisson Blu St Helen's Hotel €€€
Set in formal gardens just south of Dublin's city centre, with views across Dublin Bay to Howth Head, the fine 18th century house at the heart of this impressive hotel was once a private residence.

Schoolhouse Hotel €€€
Dating back to its opening in 1861 as a school, this canalside building at Mount Street Bridge has seen many changes, culminating in its opening in 1998 as one of Dublin's trendiest small hotels.

D4Hotels.com €€€
The former Jurys Ballsbridge Hotels offer quality accommodation in a wonderful location

Burlington Hotel €€€€
Ireland's largest hotel, the Burlington has more experience of dealing with very big numbers efficiently and enjoyably than any other in the country.

Mount Herbert Hotel €€
Close to Lansdowne Road DART station and the RDS, this sprawling hotel is made up of a number of interconnecting houses and offers comfortable, well-priced accommodation with easy access to the city centre.



West Dublin City Hotels:
Castleknock Hotel & Country Club €€€
This new hotel just outside Castleknock Village is a welcome addition to the limited accommodation and amenities in the area. With its own golf course, extensive conference facilities and countryside views, it makes a pleasant base for both business and leisure guests.

The Twelfth Lock Hotel €€
The Twelfth Lock is a gem of a bar, with views out over the picturesque Royal Canal, a warm, friendly atmosphere and good informal meals and ten bedrooms.

Bewley's Hotel at Newlands Cross €
The lobby gives a good first impression at this large budget hotel just off the N7. Bedrooms will confirm this feeling, especially at the price.

Clarion Hotel Liffey Valley €€€
The Clarion Hotel Liffey Valley is a 4 star hotel ideally located within easy reach of the M50 motorway, Dublin Airport, Dublin City Centre and, of course, Liffey Valley Shoppping Centre.

Red Cow Morans Hotel €€€
Strategically located close to the motorway and known as a pub for many years, the Red Cow Hotel is definitely a location to check out if you are considering visiting the area on business.

Park Plaza Tyrrelstown €€
Located in close proximity to both Dublin city centre and Airport this contemporary hotel features 155 bedrooms including 11 Junior suites and 2 suites, each room boasting broadband and state of the art entertainment systems.

Maldron Hotel Citywest €€
On the Naas Road, at Kingswood, the The Maldron Hotel Citywest has recently been re-branded (formerly Comfort Inn) and offers good accommodation and facilities for a budget hotel, and is well located for business travellers.


South City Suburbs Hotels:

Beacon Hotel Sandyford €€€
The Beacon Hotel is ideally located in the Sandyford business region in South Dublin along side the M50 motorway.

IMI Residence Sandyford €
Within easy access of the M50, (Sandyford Industrial Estate exit), 1 km from the Luas stop at Balally and on local bus route to Dundrum less than ten minutes away, the residence is on spacious grounds surrounded by trees with lots of parking.

Plaza Hotel Tallaght €€
The Plaza Hotel Tallaght is ideally located immediately beside The Square Shopping Centre and just off the Belgard Road, with direct access to the city on the Luas (tram).

Bewleys Hotel Leopardstown €
One of the Bewleys trademark large modern Dublin hotels, near Sandyford Industrial Estate, it offers simple, well-designed accommodation at a very reasonable price.

Stillorgan Park Hotel €
A sister establishment to the famous Talbot Hotel in Wexford, this well-run hotel has seen regular renovations over the years and it is furnished in a lively modern style throughout.