Clarkes Seafood Delicatessen
Buy
Deli / Fish & Seafood / Food Market / Online Shop
The Westport branch of the Clarke brothers' renowned Ballina business
Clarkes Seafood Delicatessen
Sorry, Clarkes Seafood Delicatessen is no longer active on Georgina Campbell's Guides
Click
here
to return to the homepage
Might also like
Speciality pork products have long been a strength in Ireland but some producers seem to have a unique magic ingredient, and Kelly's of Newport would certainly be up there among the chosen few. An excellent traditional butchers with a licensed abattoir where they slaugh ...
Horkan's Lifestyle and Garden Centre, a few hundred metres along the road from the wonderful Museum of Country Life in Turlough, Castlebar, is a garden centre with a difference, one where you could spend many happy hours. Having browsed to your heart's conte ...
Foxford, Co. Mayo
Fish & Seafood / Fish Shop / Online Shop / Speciality Store
Distance: 33.5km



For many, angling is the lifeblood of Co Mayo and the River Moy is its heart. A one stop shop of a very different kind is Michael and PJ Tiernan's 'Angling Advice Centre' and Fresh Fish Shop, an extraordinary place with a century and a half's experience of providing ever ...
Letterfrack, Co. Galway
Preserves / Restaurant
Distance: 35.7km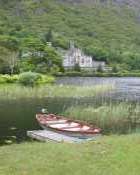 Providing you are tolerant of tour buses and high season crowds, this dramatically located Abbey offers a surprising range of things to see: a brief stroll from the abbey along the wooded shore leads to the Gothic church, for example, which is a fascinating miniature rep ...
Ballina, Co. Mayo
Baking/Bakery / Butchers / Café / Food Market / Internet/Phone Mail Order
Distance: 42.8km


Anthony and Geraldine Heffernan's long-established family butchery has undergone several revamps in recent years and, while it is still a butchers shop with café, deli, and bakery, Heffernans Fine Foods has developed considerably of late. Butchery remains the cor ...