Unpretentious, cosy and rustic, this authentic Italian restaurant in the centre of Waterford is a genuinely hospitable little place and its good value - where else might you get such a delicious simple meal for under €50 for two?
Business Meal
Buzzy Atmosphere
Romantic
Vegetarian Friendly (always at least 1 starter & 1 main course)
La Taverna
Sorry, La Taverna is no longer active on Georgina Campbell's Guides
Click
here
to return to the homepage
Might also like
The closely packed tables in Arnaud Mary and Patrice Garreau's well-named French restaurant in Waterford don't matter too much - the decor is basic, with pine tables, paper napkins, and menus that double as paper table mats, and it all adds up to a cheerful b ...
One of the country's oldest hotels, this much-loved quayside establishment in the centre of Waterford has many historical connections - with Bianconi, for example, who established Ireland's earliest transport system, and also Charles Stuart Parnell, who made ...
This tiny café serves remarkably authentic Italian food at very reasonable prices and has become a favourite with the people of Waterford. Like the proprietors, Roman Moroz and Andrea Marchesini, the menu is very Italian and they are clear about their food philos ...
With its warm Mediterranean colours, this place would bring the sun out on the darkest of days: interesting artwork, pine tables covered with the occasional oilcloth, a mix'n'match collection of seating; and, now firmly established as a Waterford restaurant t ...
Waterford, Co. Waterford
Hotel / Restaurant
Distance: 0.8km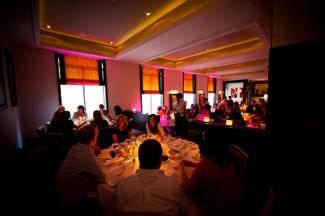 Centrally located close to the quay, this modern 4* hotel is within comfortable walking distance of all the main visitor attractions in Waterford City and has earned a reputation for giving great value in both accommodation and food. A bright reception area with attract ...