Abalone with Oyster Sauce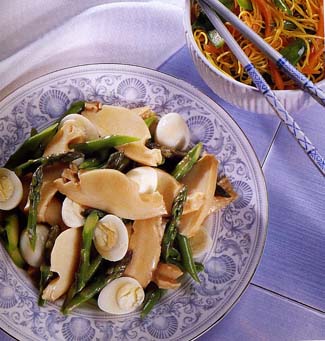 You can steam, sauté, bake, poach, boil, or barbecue abalone, or eat them raw like oysters. To prepare for cooking, use a spoon to "shuck" the meat from the shell; relax the meat with the back of a wooden spoon or mallet, and cook by your chosen method.

This simple stir-fried dish is adapted from a recipe in The Chinese Kitchen by Deh-Ta Hsiung; this well known expert on Chinese cooking is based in England and visited Ireland on behalf of Egon Ronay Guides and, more recently, to assess Chinese restaurants for GC Guides.

The Oyster sauce lends an extra dimension to the flavours.

Serves 4-6

425g (15oz) abalone (fresh or canned)
6 medium-sized dried Chinese mushrooms, soaked
175g (6oz) winter bamboo shoots, drained and rinsed
3 tablespoons oil
1/2 teaspoon salt
1/2 teaspoon sugar
1 tablespoon rice wine
2 tablespoons oyster sauce
2 teaspoons cornflour paste
1/2 teaspoon sesame oil
Fresh coriander leaves to garnish

Shuck and relax the fresh abalone (see above); if using canned abalone, drain and reserve the juice.

Cut each abalone at a slant into 6 thin slices.

Squeeze the mushrooms dry, discarding any hard stalks, and cut each in half also at a slant.

Cut the bamboo shoots into diamond-shaped chunks.

Heat the oil in a preheated wok and stir-fry the mushrooms and bamboo shoots for 1 minute.

Add the salt, sugar and about 2 tablespoons of abalone juice or water. Blend well.

Add the abalone with the wine and oyster sauce, then stir for another minute. Thicken the sauce with the cornflour paste. Add the sesame oil, toss and serve hot, garnished with the coriander.