Apricot, Date and Guinness Slices with Guinness Cream Sauce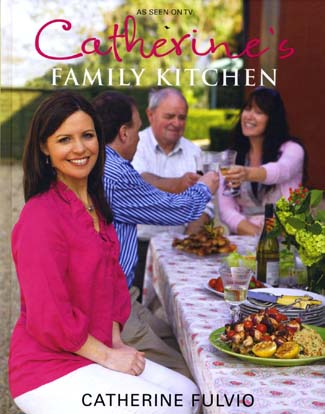 This is the season when we all love to bake, and the delightful Catherine Fulvio's take on the traditional sticky toffee pudding recipe should be very popular, adding 'a truly Irish dimension with the addition of the Guinness'. Catherine says that "We make this in our cookery school to great applause, though we find that the measurements of Guinness can be a bit heavy handed!"

It's from her lovely new book, Catherine's Family Kitchen (Gill & Macmillan, hardback, €22.99), based on the RTE series which, although filmed at home in Wicklow, seems to have been blessed with some Italian sunshine.

Makes 9 squares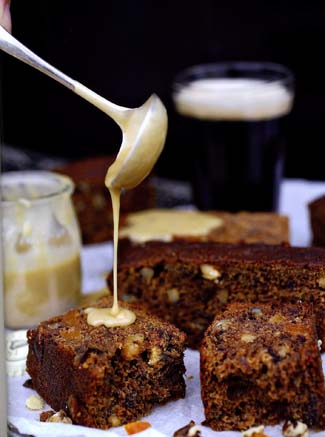 For the slices:

150g stoned dates
120g dried apricots, chopped
150ml Guinness
120ml water
75ml whiskey
1 tsp bread soda (bicarbonate of soda)
175g Demerara sugar
85g butter, softened
3 medium eggs, beaten
180g self-raising flour
100g chopped walnuts

For the sauce:

75g butter
75ml Guinness
75ml double cream
2 tbsp runny honey

1. Preheat the oven to 200°C/fan 180°C/gas 6. Line a 21cm square brownie tin with parchment paper.

2. Put the dates, apricots. Guinness, water, whiskey and bread soda in a saucepan. Place over a gentle heat until the dates soften and break down, stirring occasionally. This should take about 4-5 minutes. Leave to cool.

3. Using an electric mixer, cream the sugar and butter until light and fluffy. Gradually beat in the eggs.

4. Fold the flour, walnuts and the cooled date mixture into the egg mix and transfer to the prepared tin. Bake for 35-40 minutes, until firm to the touch. Leave to cool in the tin for 5 minutes before turning out on a cooling rack. Cut into 9 squares.

5. To make the sauce, place the butter, Guinness, cream and honey in a saucepan and simmer over a low heat until the honey has dissolved and the sauce has thickened. Serve warm, drizzled over the slices.