Beetroot, Goats Cheese and Walnut Salad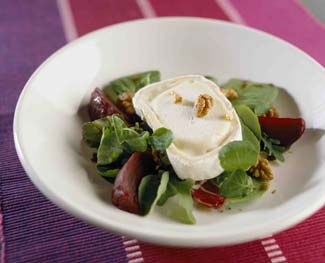 The simplicity of this pretty dish allows quality ingredients to speak for themselves: with its lovely delicate herbal flavours, St Tola goats' cheese from Co Clare contrasts well with sweet and deeply coloured beetroot to make a deliciously subtle starter or light lunch.

Be careful to use fresh walnuts, as they spoil and take on a bitter flavour when stored for too long.

Serves 2-4

A selection of seasonal salad leaves
115g/4½ oz St Tola or other soft organic goats' cheese
3 beetroots, cooked and peeled
10-15 fresh walnuts, coarsely chopped

Dressing:

15ml/1tbsp balsamic vinegar
45m /3tbsp extra virgin olive oil
2.5m/½ tsp Dijon mustard

Wash and dry the salad leaves.

Put a small handful of leaves onto each plate.

Slice the goats' cheese and beetroot into wedges and place 2-3 of each onto each plate. Sprinkle the walnuts over the salads.

Put all the ingredients for the dressing into a small bowl or screw-top jar and mix well to emulsify.

When ready to eat, sprinkle the dressing over the salads and served with freshly baked crusty bread.