Beetroot, Red Onion and Feta Salad with Walnuts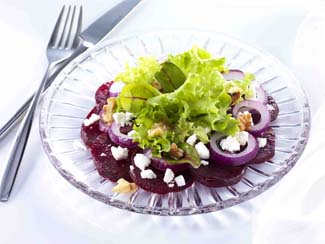 This pretty recipe comes from Garrett Byrne, chef-proprietor of our Restaurant of the Year 2010, Campagne, in Kilkenny City. This dish is best served at room temperature.

Serves 4

What you need:

4 medium beetroot, trimmed and scrubbed clean
200ml / 7fl oz red wine vinegar
225g / 8oz sugar
2 red onions cut into thin rounds
20 walnuts, cracked and shelled (as fresh as possible)
100g / 4oz feta cheese
50g / 2oz mixed baby salad leaves
1-2 tablespoons walnut oil
A little salt and freshly ground black pepper

What you do:

1. Place the beetroot in a pan of lightly salted water and bring to the boil, then reduce the heat and simmer for about 45 minutes until just tender.

2. Meanwhile, bring red wine vinegar and sugar to the boil in a pan, then remove from the heat and pour over the red onions. Leave to stand for at least one hour to allow the flavours to develop.

3. Drain the beetroot and when just cool enough to handle but still warm quickly peel them and thinly slice. Place in a bowl and add a few tablespoons of vinegar sugar mixture. Leave to stand for at least one hour.

4. Preheat the oven to 180°C / 350°F/ Gas Mark 4. Place the walnuts in a small roasting tin and roast for 6-8 minutes until toasted and golden brown. Remove from oven and place in a clean tea towel and then wrap up and rub together to remove the skins.

5. Drain the marinated beetroot slices and arrange in a circle in a slightly overlapping layer on serving plates. Season with a little salt and pepper. Drain the red onion rings and scatter over the beetroot. Crumble the feta cheese on top. Place the salad leaves in a bowl and season with a little salt and pepper and then toss with the roasted walnuts and enough walnut oil to just barely coat the leaves. Arrange the dressed leaves and nuts loosely on top of beetroot salads to serve.