Blueberry Cheesecake - Blueberry Tonic Granita with Blueberry Jelly - from Derryvilla Farm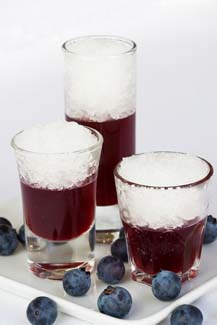 IRISH FOOD WRITERS GUILD AWARDS WINNER 2009: DERRYVILLA BLUEBERRIES

The American blueberries grown at Derryvilla Blueberry Farm are closely related to the native Irish fraughan or bilberry, a fruit associated with celebration, feasting and fertility. The cultivated berry is a juicy, versatile fruit, prized as a vitamin-rich food – and, in Ireland, it is grown on cutaway bog in County Offaly.

The history of Derryvilla Blueberry Farm involves a number of dedicated farming pioneers including, for the last five years, Nuala O'Donoghue who has been involved, in particular, with development of the innovative Blueberry Tonic and delicious blueberry preserves – both of which are out-sourced to other well-known artisan food producers. [Derrvilla Blueberries and products are available from selected retailers, including Nolans in Clontarf, Dublin 3, and Foxes in Mullingar].

Recipes put together by Derry Clarke from l'Ecrivain Restaurant

RECIPE:

Con Trass of The Apple Farm in Clonmel, County Tipperary, makes the blueberry tonic for Derryvilla Farm.

INGREDIENTS

For the Derryvilla Farm Blueberry Tonic Granita
500ml Derryvilla Blueberry Tonic
50ml stock syrup
The juice of 1 lemon
For the Derryvilla Blueberry Jelly
1 gelatine leaf
2 punnets fresh blueberries
Stock syrup to taste
For the Stock Syrup
500ml water
200g sugar

METHOD

For the Stock Syrup

Place the sugar and water in a pan. Stir without heating until the sugar has dissolved, then bring the mixture to the boil. Take off the heat and leave to cool.

For the Derryvilla Farm Blueberry Tonic Granita

Place the tonic in a container. Add the lemon juice and stock syrup to sweeten. Pour into containers and freeze overnight. Leave out at room temperature for a few minutes and then blitz into a chucky granita mixture.

For the Derryvilla Blueberry Jelly

Place the blueberries in a pot with some sugar to coat and a little water. Bring to the boil and then remove from heat. Blend and pass through a chinois.
When cool, add the stock syrup to taste.
Soak the gelatine in cold water while bringing some of the blueberry purée to the boil.
Whisk the dissolved gelatine into the hot mix and then add it back to the rest of the purée. Half fill shot glasses with blueberry jelly and chill to set.

To serve

Top the blueberry jelly shots with frozen granita and serve chilled.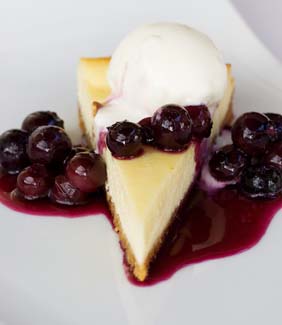 RECIPE: Baked Derryvilla Farm Blueberry Cheesecake

Irish-grown Derryvilla Farm blueberries can be used fresh in this classic dessert when they are in season (August-September). They can also be frozen, for use in made up dishes and as a sauce (coulis).
Serves 8

INGREDIENTS

For the base

1 packet (200g digestive biscuits)
140g butter, melted
140g white chocolate, melted

For the topping

1 punnet fresh Derryvilla Farm blueberries
400g cream cheese
150g crème fraiche
2 eggs
300g melted white chocolate

1 springform 8" round cake tin

METHOD

For the base

Preheat oven to 170°C/320°F/gas mark 4. Grease cake tin.
Blitz the biscuits in a food processor until they form a fine crumb. Add melted butter and melted chocolate. Push mix down into cake tin.
Bake base for 1-2 minutes just to set. Remove from oven and leave to cool.

For the topping

Blend all ingredients, except chocolate, in food processor until smooth. Slowly pour in melted white chocolate. Spread topping over the base and return cheesecake to oven to bake for 15-20 mins until sides are set but middle still has a smooth wobble.

To serve

Plate a slice of cheesecake on a plate and serve with a dollop of vanilla ice cream, a drizzle of blueberry coulis and a sprinkle of fresh blueberries.