Carrot and Beetroot Salad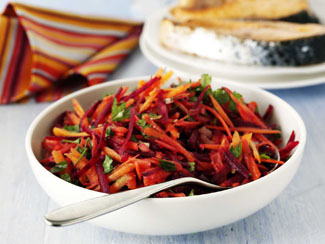 Colourful and crunchy, this easy salad is rich in carotenoids, which are great for summer skin, with an anti-oxidant effect. Serve it at as a starter or side dish with fish or grilled meats, and at barbecues.

Serves 4

350g / 12oz carrots, peeled and trimmed
350g / 12oz raw beetroot, peeled and trimmed
2 shallots, peeled and finely chopped
2 tsp cumin seeds
2 tbsp olive oil
1 tbsp sherry or red wine vinegar
1 small bunch flat parsley, roughly chopped

Peel and trim the carrots and beetroot, then coarsely grate both on a grater, wearing rubber gloves when grating the beetroot. Alternatively, use a food processor fitted with a grating plate.

Place the grated vegetables in a bowl, and then add the shallots.

Heat the cumin seeds in small pan until they are hot and smell pungent.

Remove from the heat and scatter over the vegetables. Add the olive oil, vinegar and parsley, and then toss well.

Leave to marinate for at least 15 minutes before serving.