Chicken Skewers with Dried Fruit Couscous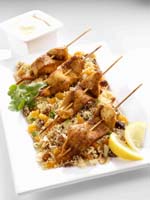 The Strawberry Tree at The Brooklodge Hotel & Wells Spa, Co. Wicklow is Ireland's only certified organic restaurant. They lay great emphasis on the importance of quality ingredients and many of those suitable for producing in the Irish climate would be supplied from organic producers in the surrounding area.

Buying quality chicken is especially important and, when dining out, remember to 'Just Ask, where it comes from if it's not mentioned on the menu!

This aromatic, gently spicy recipe is from Tim Daly, chef at The Strawberry Tree.

Serves 4

What you need:

For the Chicken:

4 x 100g / 4oz skinless Irish chicken breast fillets, preferably organic
1 tablespoon olive oil
2 garlic cloves, crushed
½ teaspoon each ground cumin, turmeric and paprika
Juice of 1 lemon
8 small wooden skewers

For the Couscous:

1 tablespoon olive oil
1 small onion, chopped finely
1 garlic clove, crushed
¼ teaspoon each ground cumin, cinnamon and ginger
50g / 2oz stoned dates, chopped
50g / 2oz dried ready-to-eat apricots, chopped
50g / 2oz toasted flaked almonds
225ml /8fl oz vegetable stock
225g / 8oz couscous
Juice of ½ lemon
2 tablespoons chopped fresh coriander, plus extra sprigs to garnish
A little salt and freshly ground black pepper
4 lemon wedges and low-fat crème fraîche, to garnish

What you do:

1.To prepare the chicken, cut each chicken breast fillet in half lengthways and place in a shallow non-metallic dish with the olive oil, garlic, cumin, turmeric, paprika and lemon juice. Mix well to combine. Cover with clingfilm and leave to marinade for about 2 hours in the fridge or up to 24 hours is fine.

2.Thread the chicken pieces onto 8 x 15cm / 6 inch wooden skewers that have been soaked in water for at least 30 minutes to prevent them from burning.

3. To prepare the couscous: Heat the olive oil in a non-stick frying pan. Add the onion and garlic and sauté for 3-4 minutes until softened. Stir in the cumin, cinnamon and ginger and cook for another minute or so. Mix well and season with pepper. Stir in the dates, apricots and almonds and take it off the heat. Place couscous in a large bowl.

4. Heat the vegetable stock until boiling and then pour it over the couscous. Cover tightly with clingfilm and leave to stand for 5 minutes before gently separating the grains with a fork. Fold in the lemon juice and coriander with the dried fruit and onion mixture and season with a little salt and pepper. Set aside.

5. Under a hot grill or on a barbecue, cook the marinated chicken skewers for 5-8 minutes on each side.

6. Arrange on plates with the dried fruit couscous. Garnish with the coriander sprigs, lemon wedges and crème fraîche to serve.