Chocs Away for Valentine's Day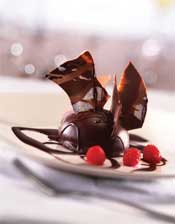 Chocolate and St Valentine's Day are pretty well synonymous at this stage – not just a treat, chocolate is perhaps the most romantic gift after red roses. Although the basic combination of high quality chocolate, fat and sugar is undoubtedly pretty pleasurable to most people, the huge popularity of chocolates for Valentine's Day might all be put down to clever marketing - except that chocolate does actually contain phenylethylamine, the naturally occurring chemical in the human brain responsible for the euphoric feelings associated with being in love.

So, if it's true after all, we might as well discard all those nasty guilt feelings for the day at least, and enjoy…

DUNBRODY KISS

This is the signature dessert at the romantic Dunbrody House Hotel (with cookery school and spa) at Arthurstown, Co Wexford. A perfect finale for a special meal, the recipe from TV chef / proprietor Kevin Dundon really isn't that difficult to make. It is an intensely chocolatey experience and never fails to impress - just make sure you use the best possible quality chocolate.

Kevin says "There is no doubt in my mind that there is something about chocolate that is addictive - it contains several stimulants, including caffeine and pleasure-inducing endorphins - no wonder it tastes so good!"

Makes 6:

450g/1lb plain chocolate, broken into pieces
5 eggs, separated
600ml/1 pint cream
1 fun size Mars bar, chopped
50g/2oz cornflakes, lightly crushed
For the Chocolate Shards:
50g/2oz plain chocolate, broken into pieces
50g/2oz white chocolate, broken into pieces
for the Chocolate Ganache
75g/3oz plain chocolate, broken into pieces
85ml/3fl oz cream, plus a little extra if neccessary

handful small halved strawberries or raspberries, to decorate

Select 6 x 200ml / 7fl oz teacups and line them with cling film. Melt the plain chocolate in a heatproof bowl set over a pan of simmering water. Leave to cool a little. Lightly beat the egg yolks, then whisk into the melted chocolate. Whip the cream in a bowl until you have achieved soft peaks, then whisk into the chocolate mixture.

In a separate bowl, beat the egg whites until stiff, then fold into the chocolate mixture. Divide among the lined teacups and chill for at least 2 hours or, preferably, overnight. When the chocolate mousse has set, melt the Mars bar in a small pan. Remove from the heat and fold in the cornflakes. Leave to cool a little, then add a layer to each chocolate mousse to form a crunchy base. Place in the freezer for at least 2 hours; (up to one month is fine, if required).

To make the chocolate shards, melt both chocolates in heat-proof bowls set over pans of simmering water. Line a baking sheet with cling film. Spoon on blobs of both chocolates and then cover with cling film. Gently roll to form one even layer. Place in the freezer for at least10 minutes (or for up to one month, if required).

To make the chocolate ganache, heat the chocolate and cream for 1-2 minutes until melted, stirring constantly. The consistency should coat the back of a wooden spoon. If you think it is too thick, add a little more cream. Invert the teacups onto a wire rack set over a clean tray and then carefully peel away the cling film. Ladle a little of the chocolate ganache over each one until completely coated, allowing the excess to drip onto the tray below. Using a spatula, scrape the excess chocolate ganache into a pan and reheat gently. Leave to a cool a little.

To serve, using a fish slice, transfer the coated chocolate mousses on to serving plates and leave to defrost at room temperature for 10 minutes, then decorate with the strawberries and raspberries and drizzle around the cooled chocolate ganache. Now, working quickly, remove the sheet of chocolate shards from the freezer and peel away the cling film, then break into shards and stick two into the top of each Dunbrody Kiss.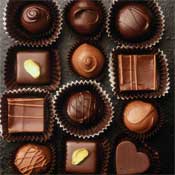 SHORT ITEM: Back to (Cook) School Weekends

Catherine Fulvio, chef/proprietor of Ballyknocken House & Cookery School, near Ashford, Co Wicklow offers weekend cookery breaks with a wide range of themes such as Easy Entertaining, A Taste of Provence & Gourmet on a Budget - and more. Classes take up three quarters of a day and include lunch or a tasting plate; classes are a mixture of hands on and demonstration only, to suit different requirements.

Accommodation is at the charming Ballyknocken Country House (a previous Georgina Campbell Farmhouse of the Year) and, to work up an appetite for the 4-course dinner to follow, guests regularly don the wellies and traipse through the enchanting hardwood Carrick forest, which adjoins Ballyknocken Farm.

For non-cooking partners, there is excellent golf locally, or you can simply relax by the log fires or stroll around the gardens.