CHRISTMAS - Christmas Cake / Marzipan / Royal Icing / Oysters or Smoked Salmon Platter with Aherne's Brown Bread / Brown Sugar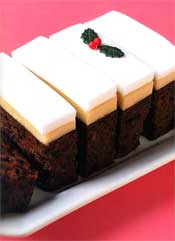 If you enjoy a traditional rich fruit cake for Christmas it will need about a month to mature, so try to make it this weekend – even if you don't use it over Christmas, it is a wonderful treat to look forward to with your afternoon cuppa in January.

This year's recipe is given by the popular Yorkshire chef, James Martin – well known to viewers of Ready Steady Cook – in his book 'James Martin's Great British Winter' (Mitchell Beazley stg£17.99). He touches on all the seasonal highlights – Christmas, New Year, Hallowe'en, parties, the game season – offering appealing versions of many old favourites, and a good dose of common sense.

As with the Christmas pudding recipe given last week, time taken sourcing quality ingredients will reward you with the best possible flavour and texture.


Christmas Cake
There are many recipes for classic Christmas cake. This is James Martin's auntie's old recipe which, he says "worked for her, so it's good enough for me!"
Makes 1 x 20cm (8in) cake
675g (11⁄2 lb) mixed dried fruit
115g (4oz) blanched flaked almonds
115g (4oz) mixed candied peel, chopped
115g (4oz) glace cherries, well rinsed, then quartered
300g (101⁄2oz) plain flour
1 tsp powdered cinnamon
1 tsp freshly grated nutmeg
finely grated zest and juice of 1 lemon
225g (8oz) lightly salted butter
225g (8oz) soft brown sugar, light or dark
1 tsp vanilla extract
1 tbsp black treacle
4 medium eggs
1⁄2 tsp bicarbonate of soda
1 tbsp milk
brandy
1 Preheat the oven to 140?C/275?F/gas mark 1, and line a 20cm (8in) cake tin with a layer of brown paper, then a layer of Bakewell paper.
2 Mix the dried fruit, almonds, peel and cherries in a huge bowl. Turn them well and add the flour, spices and lemon zest and juice.
3 Cream the butter and sugar thoroughly, then add the vanilla extract and treacle. Still beating, incorporate the eggs, then stir the mixture into the fruit and flour. Finally, dissolve the bicarbonate of soda in the milk and stir this into the fruit thoroughly as well. Add brandy to taste by the spoonful, until you have a soft dropping consistency.
4 Pour the mixture into the prepared tin and hollow out the top slightly. Bake for 31⁄2 hours, then test it with a larding needle or skewer (if this is just dry, the cake is ready). Remove the cake from the oven, when it is done, and leave it to cool in its tin.
5 When cool, peel off the Bakewell and brown paper. Wrap in clingfilm, and then put into an airtight tin (or in foil). The usual thing is to keep the cake for at least a month before icing it, and to sprinkle it occasionally with more brandy.
6 To finish off the cake for Christmas, you will need marzipan and icing (see the recipes below). Do not buy the marzipan ready-made – your own may not look as yellow as it does in the shop, but it will taste much better!
Almond Paste or Marzipan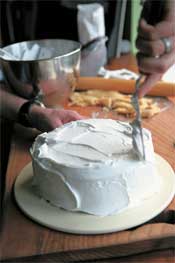 "For some reason people still buy ready-made marzipan, particularly the fluorescent yellow stuff, which they then put on the Christmas cake they've spent ages making. Why, when marzipan can so easily be made at home?"
Covers a 20cm (8in) cake
225g (8oz) icing sugar, plus extra for dusting
500g (1lb 2oz) ground almonds
1 large egg (weighing about75g/23⁄4 oz)
3-4 tsp lemon juice
glaze: 1 tbsp apricot jam
1 Sift the sugar into a bowl and mix in the almonds. Beat the egg well, then add it and the lemon juice to the dry ingredients. Using a wooden spoon, beat to a firm paste, then knead on a work surface that has been sprinkled with icing sugar. (If you don't find most marzipan too sweet, add another 225g/8oz sugar and use 2 medium eggs instead of 1 large.)
2 Slice the top from the cake to make it even, then turn it upside down and put it on a wire rack. Boil the jam and 1 tbsp water in a small pan, sieve it into a bowl and, while it is hot, brush some over the top (what was the bottom) of the cake.
3 Set aside a third of the marzipan and roll out the rest to a circle a little larger than the cake – do this on a sheet of clean greaseproof and use the cake tin as a guide. Press the glazed side of the cake down on to the marzipan. Remove the paper and smooth the marzipan over the sides.
4 Measure the depth of the cake and its circumference. Roll out the remaining marzipan to these measurements, again on a sheet of greaseproof. Brush the cake sides with the remaining hot apricot glaze and roll it slowly along the strip of marzipan. Pat everything into place, closing the cracks, and put the cake back on its rack.
Royal Icing
Covers a 20cm (8in) cake:
4 small egg whites
4 tsp lemon juice
1kg (2 1⁄4 lb) icing sugar, sifted
1 Whisk the egg whites until they are white and foamy but not stiff. Stir in the lemon juice, then the sugar, bit by bit, using a wooden spoon. When everything is combined, continue to beat the mixture until it is a dazzling white. Cover the basin and leave for an hour before using.
2 To ice the cake, have a bowl of hot water handy. Put half the icing on the cake, dip the palette knife into the hot water (it shouldn't be too wet), then use it to spread the icing. Cover the cake, then put on the remaining icing, either roughly to make a snowy effect or with the aid of a forcing bag and nozzles. Leave for at least 2 days to set before eating.
SHORT RECIPE: Oysters or Smoked Salmon Platter with Aherne's Brown Bread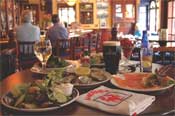 The Bord Iascaigh Mhara 'Seafood Circle' establishments – previously restricted to pub lunches - now include around 50 seafood restaurants and bars all over the country, each representing the best seafood offering in the area. It is well worth planning a journey around a break at the Fitzgibbon family's long-established bar & restaurant with accommodation,
Aherne's
(+353 (0)24 92424), in Youghal, Co Cork, named as the Seafood Bar of the Year for 2007 – this fine traditional establishment is widely known for its consistent excellence.
For delicious simplicity, it's hard to beat seafood like natural oysters or smoked salmon (slices of smoked Irish salmon attractively on a platter, garnished with salad leaves, lemon wedges and capers), accompanied by this wonderfully moist, Aherne's Brown Bread. This unusually simple yeast bread does not require kneading and complements seafood perfectly.
Makes one loaf:
l lb/450g wholemeal flour
Pinch of salt
l dessertspoonful black treacle
l oz/25g fresh yeast
About 3/4 pint/450ml water, at blood temperature
Put the flour in a warm place and add the salt. Mix the treacle, yeast and half the water in a jug. Put in a warm place and allow to ferment. Oil a l lb/450g loaf tin. When the yeast rises, rub the mixture into the flour and add enough water at blood heat to make a moist dough. Put the mixture into the tin and allow to rise again. When well-risen, bake in a preheated oven, 350'F, 180'C, Gas mark 4 for 45 minutes. Turn out of the tin and bake for a further 10 minutes, or until the bread sounds hollow when tapped. Wrap in a tea towel and leave on a wire rack to cool.
Note: Although fresh yeast gives best results, any yeast recipe can be adapted to use dried yeast such as McDougall's Fast Action Dried Yeast, allowing l sachet per l lb flour.
INGREDIENT OF THE WEEK: BROWN SUGAR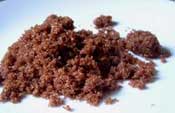 What Is It?
Brown sugar contains molasses, which is a sugar cane product and the main ingredient in black treacle. Brown sugar was originally a less-refined form of white sugar, retaining some molasses which would otherwise have been removed in the refining process, but most of the brown sugar we use today is white (beet) sugar, which has had molasses added for colour and flavour. Most brown sugars are available light or dark; within style (eg soft or granulated) they are often interchangeable in cooking, but dark brown sugar is softer and moister, with a more distinctive flavour which is an essential ingredient in some robustly flavoured recipes, but can be overpowering when used with delicately flavoured ingredients.
Where Does It Come From?
Many countries grow various crops for sugar production – sugar beet is the best known in this part of the world, but sugar is made from a range of plant products including the sap of palms and ground dates. Barbados and Demerara sugars are refined, moist crystalline brown cane sugars from the Carribean.
Where Can I Get It?
'Ordinary' brown sugars (ie refined white sugar with added molasses) are available in every supermarket and corner shop. The more interesting, specialised forms – less-refined cane sugars, products of other less usual plants – are available from specialist groceries and the better supermarkets; Billington's sugars, for example, include unrefined, Fairtrade and organic ranges, and some of the Shamrock range is organic.
What Can I Do With It?
Apart from sweetness, the important characteristics of brown sugar are texture and flavour, and – along with quality dried fruits - soft, moist, dark brown sugars like Barbados and muscovado will help give your fruit cakes and Christmas puddings depth of flavour, a delicious moist texture, and good keeping qualities. Demerara sugar (pale brown crystals) is traditionally the sugar of choice to bring out the full flavour of coffee. Light soft brown sugar is needed for 'hard' sauces like rum butter and is a more interesting substitute for caster sugar in many recipes (meringues, for example). All have the same preservative qualities or other sugars and can be used, according to type, in preserves, eg dark whiskey marmalade.