Christmas Pudding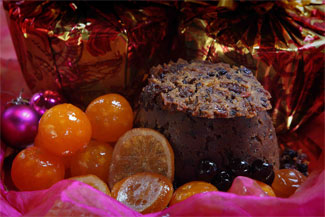 This version of the Traditional Christmas Pudding is a favourite in my own family, it's especially light, as it contains only breadcrumbs and no flour, and it is best made with premium fruit, which can include beautiful whole glacé fruits, and fresh spices.

Store puddings in a cool and dry place, or refrigerate. Makes two 2-pint/1 litre puddings, each serving 8.

Variations: The mixture given can be used to make one large, one medium and one small pudding, if more convenient – or some of it can be cooked in ramekins to make individual servings; adjust cooking times according to size.

350g/12 oz raisins
225g/ 8 oz currants
225g/ 8 oz sultanas
100g/ 4 oz glacé cherries
100g /4 oz candied peel
75g /3 oz blanched, slivered almonds
14 oz/400g fresh white breadcrumbs
1 small coffeespoon salt
l teaspoon ground mixed spice
1 teaspoon ground cinnamon
1 teaspoon finely grated nutmeg
½ teaspoon ground ginger
¼ teaspoon ground cloves
225g/8 oz grated butter or shredded suet
225g/8 oz Demerara sugar
l large carrot, about 6 oz/185g, scraped and coarsely grated
l large Bramley apple, 6-8 oz/175-225g, peeled and finely chopped or coarsely grated
Finely grated zest and juice of l orange and l lemon
2 tablespoons black treacle
100 ml/ 4 fl oz Eden apple brandy, made in Co Cork (or use whiskey, rum or brandy)
4 eggs, lightly whisked

Sort through the dried fruit to remove any stalks or pieces of grit. Wash, dry, and halve the cherries. If using whole candied peel, cut up finely with a very sharp knife.

Blanch and sliver the almonds. Remove crusts from a day-old white loaf and make crumbs in a food processor or blender. Peel and grate the carrot and apple.

In a large bowl, mix all dry ingredients, including apple, carrot and grated lemon and orange zest.

Warm the treacle slightly in the microwave or small pan to make it runny and add the orange and lemon juice, apple brandy (or whiskey, rum or brandy) and the lightly beaten eggs.

Mix the liquids well, add to the dry pudding mixture and stir to mix thoroughly. Cover the bowl with a tea towel and leave in a cool place overnight.

Next day, butter two 2-pint/l-litre pudding basins and put a buttered disc of greaseproof paper in the base of each. Also prepare buttered double greaseproof circles a little larger then the top of the bowls and double plain greaseproof circles about 4"/10 cm bigger than the top of the bowls.

Give the pudding mixture a good stir, add any traditional charms (a silver sixpence was the treat in our family – nowadays it would need to be wrapped hygienically in foil), spoon into the prepared bowls and tap sharply on the worktop to remove air pockets.

Smooth down the top with the back of a tablespoon, cover with the smaller buttered circles of greaseproof paper and tuck in neatly around the edge, then lay over the larger pieces and tie down firmly with good string - allow enough for a handle if possible, as it will be much easier and safer to handle the hot puddings later on.

Trim the excess paper a bit if it is very bulky, then top off with a piece of foil and tuck it firmly under the rim of the bowl.

Cook by one of the following methods, then reheat when required by steaming/boiling for a further 2-3 hours (or reheat slices in the oven, covered in tinfoil):

* To boil: stand puddings on trivets in deep saucepans, pour in enough boiling water to come two-thirds of the way up the sides, cover tightly and boil for 5-6 hours, making sure the water never goes off the boil and topping up regularly with boiling water to keep up a level at least half way up the bowl.

* Steam for 5-6 hours over pans of simmering water, making sure it does not go off the boil and topping up with boiling water as necessary.

* Oven-steam - this method does not require regular topping up, making it suitable for overnight cooking - and it also keeps the kitchen free of steam: Preheat a very moderate oven, 300'F, 150'C, Gas mark 2; stand the puddings in a deep roasting tin, three-quarters fill with boiling water, then cover completely with foil to prevent steam escaping. Cook in the preheated oven for about 6 hours, or overnight, reducing the temperature to 280'F/140'C/gas mark 1 if it will be left unattended for more than 6 hours.

* Pressure cooking is also very suitable and faster, although only one pudding can be cooked at a time. Consult your pressure cooker instruction leaflet for details as they vary.

* Microwave cooking is also successful, especially in a ring mould. Adjust time to suit the power of your machine, based on the fact that half of the above mixture takes 16 minutes in a 700 watt microwave, on full power, plus an extra 2 minutes at the end when turned out upside down on a plate. In my experience microwaved puddings do not have the same keeping qualities as traditionally cooked ones, so I suggest either making them nearer the time of use or freezing them until required, then defrost and reheat on full power, allowing l minute per lb/450g.

HINTS:

* Warm the spoon before measuring out treacle or honey, then it will slide off easily, without waste. If treacle or honey has to be weighed it is easiest to put the tin or jar on the scales and weigh the amount removed. If you need to warm the treacle to make it easier to mix with other liquids, do this in a small jug in the microwave; otherwise use a small saucepan.

* Grating the zest from citrus fruits is easiest if the skin is lightly frozen, so put it into the freezer while assembling other ingredients. On the other hand, you get most juice if the fruit is slightly warm - so pop it into the microwave for a few moments between grating and juicing.

* Christmas puddings and other products containing dried fruit keep very well and improve with age, so they are traditionally made well ahead of Christmas and, providing they are stored correctly (in a dry, cool, dark place), may be kept to eat the following year. But a long period of maturation isn't absolutely essential and they also taste good when eaten quite fresh (ie within several weeks).