Corned Beef and Colcannon With Maple Roasted Carrots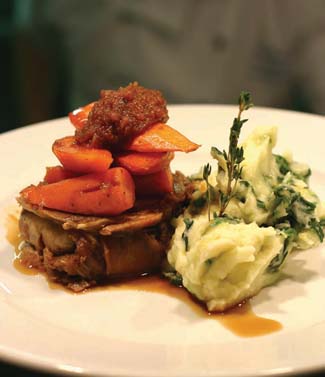 This recipe is from Paul Flynn's cookbook, Second Helpings, Further Irish Adventures with Food (ISBN 1-903464-84-6).

Paul is proprietor-chef of the renowned restaurant and cookery school, The Tannery, in Dungarvan, Co Waterford, and has for many years been well known for his commitment to using local produce.

He makes this comforting dish in autumn and throughout the colder months – it's ideal for a blustery March day and should certainly convert anyone who thinks they 'don't like corned beef'. Some lightly cooked spring cabbage would also be a welcome addition, as a side vegetable.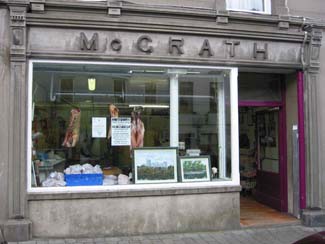 "Once September comes I reintroduce my standing order from Michael McGrath in Lismore," says Paul, "His corned beef is the stuff of legend; all I have to do is boil it in water, removing the scum every now and then. Michael uses brisket. I find it has a very agreeable fat to meat ratio, which is essential with any cut of meat.

Boil your beef earlier in the day and just reheat it in the juice when almost ready to eat. In the meantime, concentrate on your colcannon and roasting your carrots. The colcannon will be creamy enough so you won't need a sauce. A little English mustard or apple chutney will complete the dish." (Paul's recipe for Apple Chutney is given in Second Helpings.)

Serves 4

1 kg / 21/4 lb corned beef (see above)
a little sunflower oil
knob butter
3 large carrots, cut on the diagonal into 1 cm / 1/2 in slices
a little maple syrup
For the Colcannon
4 floury potatoes, chopped (Homeguards, Queens or Roosters)
4 large green cabbage leaves, thick stalks removed and shredded
4 spring onions, trimmed and finely chopped good knob butter
120ml/4fl oz milk
pinch freshly grated nutmeg
salt and freshly ground black pepper

to serve: traditional English mustard or apple chutney

Place the corned beef in a large pan and cover with water. Bring to the boil, then reduce the heat and simmer for about 3 hours or until tender, occasionally skimming any scum that rises to the top. Leave to cool in the pan and then about half an hour before you are ready to serve, reheat gently.

Preheat the oven to 200°C / 400°F / Gas 6.

Heat the roasting tin with the oil and butter. Add the carrots, tossing until evenly coated and season to taste. Roast for 15 minutes, turning occasionally until golden brown. Drizzle over the maple syrup and pop back in the oven for another 2 minutes until lightly caramelised.

Meanwhile, make the colcannon. Cook the potatoes in a covered pan of boiling salted water for 15-20 minutes, until tender.

Five minutes before the end of cooking add the cabbage.

Drain and mash the potatoes and cabbage, then beat in the spring onions, butter and milk. Season to taste and add the nutmeg, mixing well to combine.

When ready to serve, remove the string from the hot corned beef and slice against the grain. Place good dollops of the colcannon on warmed serving plates and arrange the corned beef alongside with the maple roasted carrots.

Garnish with spoonfuls of apple chutney and thyme. Have an extra small dish of apple chutney on hand to pass around.

Use the leftover corned beef for sandwiches.