Deep Filled Apple & Cranberry Crumble Pie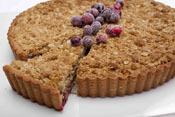 A crumble is a very traditional dessert but one which is always popular; this dessert from Kevin Dundon (of Dunbrody House Hotel) can be frozen very successfully until required at a later stage. This is a large tart with fruit and crumble topping rather than the simple fruit crumble familiar to many of us at home, but the oat topping is versatile and could also be used on other simpler variations.

Makes one 10 inch/26cm round dessert.

Sweet Pastry:

300g/11oz plain flour
125g/4oz caster sugar
150g/5oz butter
1 large egg

Place the sifted flour in a large bowl with the caster sugar.

Rub in the butter with your fingertips until the mixture resembles fine breadcrumbs.

Beat the eggs together and add to the dry ingredients and bind it together.

Wrap in cling film and allow to rest.

Apple & Cranberry Compôte:

4 large cooking apples, peeled and diced
5oz/150g cranberries
100g/3½oz caster sugar
1 tablespoon water
Bring everything to the boil for 3-4 minutes. Allow to cool down.

Crumble:

250g plain flour
100g Flahavan's Progress Oatlets or Organic porridge oats
125g butter
125g brown sugar
Pinch cinnamon

To make the crumble topping, simply rub all crumble ingredients together.

To complete the dish:

Line a buttered tart mould (10 inch/26cm round) with sweet pastry.

Half fill with apple and cranberry compôte.

Scatter with some of the crumble topping.

Bake in a hot oven for 30-35 minutes (180ºC/350ºF/Gas Mark 4).