Drunken Damson Dessert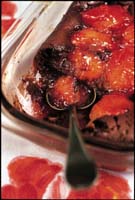 This gorgeous dessert is one of the healthier recipes in Green & Black's Chocolate Recipes (Kyle Cathie stg£14.99) and, now that top fruit is coming into season, this combination of damsons (or other plums) with best quality chocolate should fit the bill perfectly when you need a grand finale for a special late summer meal.

If you are not using damsons rescued from your own damson gin, you can use fresh plums instead in this recipe, as explained below.

Serves 8.

Drunken Plums (if you are not using your own damsons in gin)
8 large plums, stoned and halved
2 tablespoons water
50g (2oz) caster sugar
4 tablespoons gin

To make the drunken plums, poach them gently in the sugar and water for about 10 minutes. Remove from the heat, stir in the gin and leave to cool and marinate for about 2 hours.

Filling:

100g (31/2 oz) caster sugar
8 medium eggs
500g (18oz) dark chocolate, minimum 60% cocoa solids, broken into pieces
250g (9oz) unsalted butter
200g (7oz) stoned damsons in gin (if you are not using the plums above)

Preheat the oven to 200°C/400°F/gas mark 6. Butter a 20cm (8in) shallow pie dish or 8 ramekins.

Whisk together the eggs and sugar until pale and creamy. Melt the chocolate and butter in a heatproof bowl suspended over a saucepan of barely simmering water. Mix the chocolate mixture and the drained fruit into the egg and sugar mixture. Pour into the dish or divide between the ramekins ensuring that there is fruit in each one.

Bake for 12 minutes for the pie dish or 6 minutes for the ramekins, until firm to the touch, but still slightly wobbly. Leave to cool and serve with your
favourite cream.

HINT: Resist any temptation to drizzle a little left-over gin over this pudding. It is far too strong and will overwhelm the chocolate and fruit flavours.