Duncannon Fisherman's Pie with Crumble Topping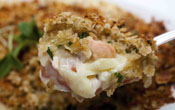 In this recipe for Fisherman's Pie from Kevin Dundon (of Dunbrody House Hotel) try using this savoury oat crumble topping on fisherman's pie, instead of mashed potato or pastry – and you could also consider using the fish mixture as the base for a seafood pasta or vol-au-vent.

Serves 6-8.

Seafood Base:

2 sticks celery, diced
1 leek-thinly sliced
1 carrot, diced finely
1 oz/ 30g butter
2 cloves of crushed garlic
pinch of chopped thyme
A little plain flour, as required
2 fl oz/50ml white wine
12 fl oz/350ml fish stock
9 floz/250ml pouring cream
1½ lb/700g selection of fish (include cod, salmon, smoked fish, prawns, mussels etc), prepared according to type, in bite sized pieces
½ shot Pernod
Fresh herbs (eg tarragon), optional
Seasoning

Topping:

3oz/75g butter
4oz/110g breadcrumbs
4oz/110g Flahavan's Progress Oatlets
Grated zest of one lemon
2oz/50g grated Parmesan cheese
3 dessertspoons of chopped fresh herbs, eg parsley & thyme
2oz/50g flaked almonds

First prepare the topping:

Melt the butter and add in the breadcrumbs, Flahavan's porridge oats, grated lemon zest, parmesan cheese, chopped herbs and flaked almonds. Allow to cool for a couple of minutes.

To prepare the pie filling:

Dice vegetables into bite size pieces and sauté in the butter with garlic and thyme until they are glazed but without colour. Scatter in a little plain flour at this stage, to coat the vegetables and dry up all the juices.

Add in white wine and fish stock together with the cream, and allow the vegetables to cook gently. Cook this mixture thoroughly before adding your selection of fish and shellfish.

Preheat the oven to 180C/350F/Gas Mark 4.

When the vegetables have softened, add in the prepared fish and shellfish. At this stage try not to stir too much as this will cause the fish to break up. Cook, very gently, for 5-6 minutes until the fish is just cooked, then add in choice of a little freshly chopped herb (eg basil and/or tarragon) if liked, together with the Pernod.

Check seasoning.

To complete the dish:

Transfer to a large casserole dish, cover with the topping and bake in the preheated oven for 20-25 minutes until piping hot.
Serve with a large green salad.