Elderflower & Lime Cheesecake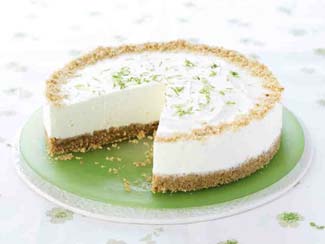 Elderflower grows prolifically in Ireland and I keep an eye out for elderflower cordial on my travels – diluted with water it makes a lovely summer drink and is made by some small producers, mainly in Co Cork - eg Ballymaloe House and Ballymaloe Cookery School; Longueville House, Mallow; Blairscove, Durrus; and Ballyvolane House, Fermoy – who also have it in their West Waterford business, O'Brien Chop House in the Heritage Town of Lismore, where they mix it with sparkling water to make a delicious and refreshing non-alcoholic cocktail.

But no Irish producer is yet making it on a commercial scale unfortunately, so the one you are most likely to find in shops is from the UK producer, Belvoir Fruit Farms - who also promote their products as ingredients in desserts such as this unusual cheesecake.

Serves 6-8

3/4 large pack digestive biscuits
90g / 3 1/2 oz butter
60g / 2 oz sugar
360g / 12 oz full fat cream cheese
160ml / 1/4 pint double cream, lightly whipped
Icing sugar to taste
1 lime
Zest of 1 lemon, preferably organic & unwaxed
2tbs / 30 ml elderflower cordial

Place the digestive biscuits in a large plastic bag. Hold one end of the bag and using a rolling pin, crush until they resemble fine breadcrumbs.

Melt the butter in a large saucepan and add the crushed biscuits and sugar until they are fully combined.

Press the biscuit mixture firmly into an 8" round tin with a removable base and place in the fridge to set.

Wash the lemon and grate the skin using a fine grater or use a zester. Place this zest together with the cream cheese, icing sugar and lime juice in a food processor and mix well.

Then slowly add the cream and elderflower cordial until it is a smooth thick paste.

Spread this mixture on the biscuit base and refrigerate.

Just before serving, sprinkle the cheesecake with the zest of the lime.