Exotic Fruit Pavlova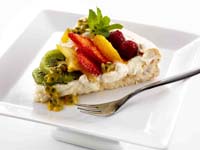 Popular TV chef Neven Maguire is well known for his wonderful desserts. While simpler than the creations at his restaurant, MacNean House & Restaurant, at Blacklion, Co. Cavan, this colourful pavlova would be the highlight of any home cooked meal.

The meringue can be cooked the day before and kept in a cool place until needed – and the fruit selection can be varied according to the season, making this an all-year favourite.

Serves 4

What you need:

5 tablespoons light cream
½ vanilla pod, split and seeds scraped out
25g / 1oz caster sugar
100ml / 3½ fl oz low-fat crème fraîche
1 passion fruit, halved and pulp removed
1 kiwi fruit, peeled and sliced
1 small orange, segmented and rind
1 small star fruit, sliced
4 large strawberries
100g / 4oz raspberries
For the Meringue:
2 large egg whites, at room temperature
A pinch of salt
100g / 4 oz caster sugar
1 teaspoon cornflour
½ teaspoon white wine vinegar
2 drops vanilla extract
Fresh mint sprigs, to decorate

What you do:

1. Preheat the oven to 150°C/300°F/Gas Mark 2. Line a baking sheet with non-stick baking parchment and draw a 17.5cm / 7 inch circle.

2. To make the meringue, whisk the egg whites and salt in a large clean bowl until stiff peaks have formed. Whisk in the sugar, a third at a time, whisking well after each addition until stiff and very shiny. Sprinkle in the cornflour, vinegar
and vanilla extract and gently fold in with a metal spoon.

3. Pile the meringue onto the paper within the circle, making sure there is a substantial hollow in the centre.

4. Place in the oven and immediately reduce the heat to 110°C/225°F/Gas Mark ¼ and then continue to cook for 45 minutes to 1 hour until crisp but still a little soft in the centre. Turn off the oven, leave the door slightly ajar and leave to cool completely.

5. To make the filling, place the cream in a bowl with the scraped out vanilla seeds and sugar and whip until thickened, then fold in the crème fraîche. Peel the paper off the Pavlova and transfer to a serving plate. Pile on the cream mixture and arrange all of the prepared fruit and berries on top, finishing with the passion fruit pulp. Decorate with the mint sprigs, then cut into slices and arrange on serving plates to serve.