FAMILY FARE - Balsamic braised beef with roast carrot and white beans / Apple & Blackberry Fool / Blackberries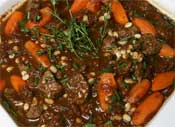 Although the demand for convenience or 'quick to cook' food is now up to 68%, an increase of 12% in the last four years, research undertaken by Bord Bia is beginning to indicate an increase of families eating together - 63% on weekdays, 65% on Saturdays and 74% on Sundays, whether it be in or out of home. Making the choice to eat healthier food has also increased and the top three requirements are foods that are 'natural, high in fibre and limiting fast food intake'. 'Low in fat', was fourth in this list – an interesting result that could show increased awareness of the fact that fat is needed in cooking, for both succulence and flavour.

Convenience food is not necessarily bad food, however, and it is interesting that The Butlers Pantry - a family-owned company renowned for quality prepared food, now available through six outlets - has instigated this week as a Family Dining Week, to encourage families to take time out to sit down to a family meal : 'take the phone off the hook, turn off TV and mobile, ipods, etc for at least 45 minutes and enjoy a chance to catch up and communicate with your family'. "We recognise that some families need a convenient solution for mealtimes, however this doesn't always have to be a fast food or take-out option", says Eileen Bergin, founder of The Butler's Pantry. "Our objective is to influence people's choice towards healthy nutritious food".

Paula Mee, Nutritionist and Presenter of RTE's Health Squad, sits on the Consumer Food Board in Bord Bia and commented, "There is a myth that home cooking is time consuming, expensive and complicated, therefore convenience food is an easier alternative. But when we eat a lot of so-called convenience foods, we get more sugar, fat and salt but very little to sustain us. We feel hungrier sooner and end up eating far too much for our size. However the market for healthier nutritious ready-meals, which can replace a home-made meal occasionally when we're time-poor or when we just want a break, is growing. More and more consumers want a tasty fresh meal on the table in minutes, without compromising their nutritional intake."

Regular readers of this column know how easy it is to make a great meal without hassle, but it is good to see the promotion of quality ready-meals – especially when the company in question is happy to encourage use of its recipes at home.

Balsamic braised beef with roast carrot and white beans
A wholesome and straightforward family meal, adapted from a Butlers Pantry recipe.
Serves 4 – 6
1 medium onion, finely diced
1 tsp fresh crushed garlic
1 bay leaf
Sunflower oil
250 ml/ 9 fl oz balsamic vinegar
1 tbsp brown sugar
2 tins of chopped tomatoes
1 kg/2 lb 3 oz diced round beef
2 large carrots, peeled & cut into chunks
1 tin cannellini beans drained and rinsed
1 bunch marjoram or mixed herbs, eg thyme or marjoram, chives parsley
Seasoning
To garnish: Fresh marjoram, thyme and/or parsley as available
Gently cook the onion, garlic and bay leaf in a little oil in a large pan.
Add the balsamic vinegar and sugar and leave on the heat until reduced by about a half.
Add the chopped tomatoes and bring to the boil, then reduce the heat.
In a separate heated pan, sear the beef a little oil until it is a nicely browned.
Add the beef to the tomato mixture, and slowly bring back to the boil.
Simmer gently for 45 minutes, or until the meat is tender.
About 15 minutes before the end of cooking, add the carrots, cannelloni beans, and fresh herbs, and stir gently.
Season to taste with sea salt and freshly ground black pepper
Serve with boiled or mashed potato, and a fresh seasonal green vegetable.
SHORT RECIPE: Apple & Blackberry Fool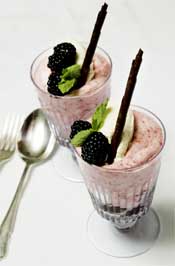 This is a forgiving dessert and can be made with whatever combination of apples, or windfalls, and blackberries you have available, perhaps ideally half in half. A 'falling' apple such as Bramley is best for fools, and the mixture can be frozen to make an easy no-stir ice cream. Reserve a dozen or so of the prettiest blackberries for decoration.
Serves 4 – 6:
700g/ 11/2 lb approx windfalls/cooking apples and blackberries
A little grated orange and/.or lemon zest
100g/ 4 oz caster sugar, approx, to
400ml3/4 pint approx cream, whipped
To finish:
A little of the whipped cream
Some reserved blackberries
Fresh sprigs of mint
Peel and chop the apples; place over low heat with the zest of the orange and/or lemon, and add the sugar. Cook gently until almost soft, then add in the blackberries. Cook for a further 5 minutes, or until the fruit is soft.
Set aside and allow to cool, then pass through a nylon sieve to remove pips.
Whip the cream until it holds its shape
Fold most of the cream into the fruit mixture. Place a few of the reserved blackberries in the bottom of a glass bowl, or share between four to six dessert glasses. Spoon the fool on top, and decorate with a little whipped cream, one or two blackberries and a sprig of fresh mint. Chill until ready to serve and use on the day of making.
INGREDIENT OF THE WEEK: BLACKBERRIES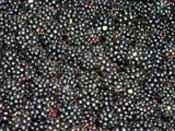 What Are They?
Blackberries, or brambles, are the fruit of Rubus fruticosa, a hardy, woody perennial plant that thrives in Great Britain and Ireland; it fruits in late summer and the familiar black berries are prolific in hedgerows, from the end of August until October. Traditionally, blackberries are not picked after Hallowe'en as the devil is said to have spat on them – and they would be past their best anyway.
Where Do They Come From?
Some wild varieties are native, and cultivated varieties, which produce larger and juicier fruits, can also be grown anywhere in Ireland. They need plenty of space, and support, but the reward will be lots of delicious fruit for cooking and, in some cases, also suitable for use as dessert fruit.
Where Can I Get Them?
At this time of year fresh Irish blackberries are there for the picking, of course (just be careful to avoid polluted areas, such as busy roadsides) ands should be easily available from greengrocers, farmers' markets and, if you are lucky, supermarkets – read the label to ensure you are not being sold imported fruit in the belief that it is local.
What Can I Do With Them?
Blackberries are very versatile, and many of our best-loved traditional desserts are made with them, often in combination with windfalls or early cooking apples that are in season at the same time: blackberry and apple crumbles and pies, fools and ice creams are all delicious, and blackberries also make great chutneys, jams and especially (for those who dislike the pips) jellies, for sweet and savoury use; like apple jelly, blackberry jelly can be used as an alternative to the much harder-to-come-by redcurrant jelly, although it is sweeter and fuller-flavoured. The very best blackberries (or cultivated varieties) can also be served raw, as a dessert fruit and they make a pretty ingredient for a fruit salad.