Fermanagh free range seared chicken breast with barley, cured bacon & turnip puree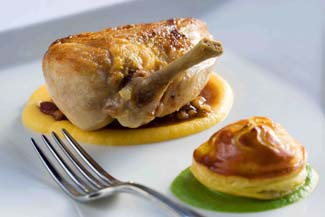 © Recipe created by Derry Clarke, L'Ecrivain, for the 2010 Irish Food Writers' Guild Food Awards

Serves 4

Ingredients:

4 tbsp olive oil
4 Fermanagh free range chicken breast Supremes (skin on, boned but with wing bone still attached)
100g (4oz) barley
1 shallot, finely chopped
50g (2oz) smoked bacon lardons
50g (2oz) button mushrooms, trimmed and sliced
4 tbsp red wine
120ml (4fl oz) jus (see separate recipe)

FOR THE TURNIP PURÉE:

275g (10oz) turnip, peeled and roughly chopped
1 shallot, chopped
2 tbsp olive oil
Maldon sea salt and freshly ground black pepper
parsley purée and pithivier filled with chicken confit, to garnish (optional)

Preheat the oven to 180°C/350°F/Gas mark 4.

TO MAKE THE TURNIP PURÉE:

Place the turnip, shallot with one tablespoon of water in a roasting tin.

Stir in the olive oil

Cover with tin foil and roast for 40 minutes until tender

Purée in a food processor until smooth and season with salt and pepper

Place the barley in a pan of boiling salted water and simmer for about 40 minutes until just tender

Drain well and set aside until needed

Heat half the olive oil in a heavy-based frying pan and quickly brown the chicken breasts on both sides and season. Transfer to the oven and roast for 10-12 minutes or until cooked through and tender

Heat the rest of the olive oil in a sauté pan and sauté the shallot and bacon for 2-3 minutes until softened but not coloured

Tip in the mushrooms and sauté for another 2-3 minutes

Stir in the barley and then pour in the wine and allow to bubble right down

Stir in the jus and allow to simmer gently for a few minutes until the flavours have had a chance to combine


TO SERVE:

Divide the turnip purée among warmed plates and make a dip in the centre of each one. Spoon in the barley mixture and arrange a seared chicken breast on each one. Garnish each plate with a spoonful of parsley purée and a pithivier filled with chicken confit, if liked.


JUS:

Makes about 900ml (1 ½ pints)

25g (1oz) butter
1 shallot, chopped
1 garlic clove, finely chopped
1 celery stick, finely chopped
1 carrot, finely chopped
1 bay leaf
1 fresh thyme sprig
1 tbsp sugar
1 tbsp balsamic vinegar
200ml (7fl oz) ruby port
200ml (7fl oz) red wine
1.5 litres (2 ½ pints) beef or veal stock

Melt the butter in a large saucepan and gently cook the shallot, garlic, celery, carrot, bay leaf and thyme for about 5 minutes.

Add the sugar and cook for 2-3 minutes to caramelise.

Add the balsamic vinegar, port and red wine and reduce by half. Next add the stock and reduce to a sauce consistency.

Pass through a muslin-lined sieve, cool and chill in a covered container.

The jus should keep for about 5 days in the fridge.

It can also be frozen in ice-cube trays and then stored in plastic bags in the freezer.