Flahavans mille feuilles flapjacks with lemon cream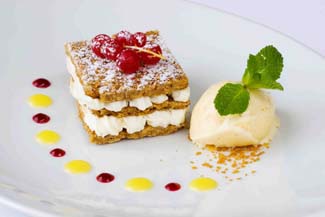 A recipe prepared by Derry Clarke of L'Ecrivain for the Irish Food Writers Guild Awards 2011

Serves 4

200ml (7fl oz) cream
finely grated rind of 1 lemon
2 tbsp lemon curd
4 redcurrant sprigs
icing sugar, to dust

FOR THE FLAPJACKS:

175g (6oz) butter, plus extra for greasing
175g (6oz) light muscovado sugar
175g (6oz) golden syrup
350g (12oz) rolled oats
finely crushed praline, vanilla ice cream and fresh mint sprigs, to serve
lemon curd coulis and raspberry coulis, to decorate

To make the flapjacks:

Preheat the oven to 150ºC (300ºF), Gas mark 2. Grease a shallow tin measuring about 28 x 18 x 4cm (11 x 7in). Melt the butter, sugar and golden syrup in a heavy-based pan over a low heat and then pour it into the rolled oats. Mix well and turn the mixture into the prepared tin to a 5mm (1/4in) thickness and press down well. Bake for about 40 minutes until golden brown.

Leave the flapjack mixture to cool for about 5 minutes, then mark into 5 x 4cm (2 x 1 1/2in) rectangles with a sharp knife and loosen around the edges. When firm, remove from the tin and cool on a wire rack, then snap into the marked out rectangles. These can be stored in an airtight container for up to 3 days.

To make the lemon cream:

Whip the cream, lemon curd and lemon rind in a bowl until soft peaks form. Spoon into a piping bag fitted with a 5mm (1/4in) fluted nozzle.

To assemble the dessert:

Place four of the flapjacks on a flat surface and pipe over a layer of the lemon cream; cover with another flapjack followed by another layer of lemon cream. Finish each one with a flapjack and add a sprig of redcurrants, then give a light dusting of icing sugar.

To serve:

Using a palette knife, transfer to serving plates and add a sprinkling of praline to the side of each one and top with a scoop of the vanilla ice cream decorated with a mint sprig. Alternate tiny spoonfuls of the lemon curd coulis and the raspberry coulis to serve.