Green Frittata with Sea Spinach Salad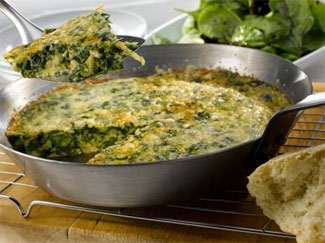 A quick and easy holiday meal that could be made with cultivated spinach or sea spinach, as available, or a mixture – remembering that the flavour and texture of sea spinach is more robust than the usual kind; taste it raw to familiarize yourself with the taste.

If uncertain about using sea spinach instead of a familiar vegetable, experiment with a single serving before making a family sized batch!

If you're not sure about it, try using less and mix it off with more familiar vegetables – or use it only in the frittata, or in the salad rather than both.

Wash sea spinach leaves carefully, and trim before use. Salt should not be needed as the sea spinach is naturally salty.

Serves 4

2 tablespoons olive oil
1 bunch of scallions, chopped
Approx 400g baby sea spinach leaves or cultivated spinach leaves, well washed and drained
6 eggs
Good handful of grated hard cheese (mature flavour)
Knob of butter
Freshly ground pepper to seas
2 to 3 teaspoons balsamic vinegar

Heat the grill.

Heat a tablespoon of the oil in a large non -stick pan, add the scallions and a third of the spinach.

Stir-fry for 2-3 minutes until they soften.

Tip into a colander and press down to squeeze out the excess moisture.

Beat the eggs and cheese and then add in the spinach mixture and stir well.

Reheat the pan, adding the knob of butter; pour in the egg mixture and cook, stirring gently, until well set on the base.

Finish cooking under the grill.

Slide onto a large plate for serving or cut into wedges and serve from the pan.

Mix remaining spinach with the olive oil and balsamic vinegar, season lightly and serve with the frittata and some crusty bread.