Green Frittata with Spinach Salad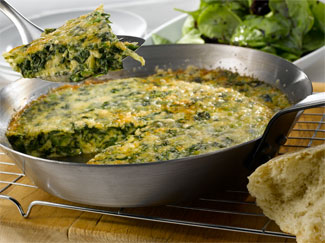 Eggs mix well with a wide range of foods and, for a very quick, well-balanced and healthy meal, you can't beat a combination of eggs with leafy green vegetables.

This frittata makes the best and quickest meal you can imagine - the greens included can be varied to suit what's available, and it's great for any time of the day.

Serves 4

2 tablesps olive oil
1 bunch of scallions, chopped
500g approx. baby spinach leaves, washed and drained
6 eggs, preferably free range and organic if possible
Good handful of regato cheese, or similar (hard, parmesan style)
Knob of butter
Seasoning
2 to 3 teasps. balsamic vinegar


1. Heat the grill.
2. Heat a tablespoon of the oil in a large non-stick pan, add the scallions and half of the spinach. Stir-fry for 2-3 minutes, until they soften.
3. Tip into a colander and press down to squeeze out the excess moisture.
4. Lightly beat the eggs and cheese together, and then add in the spinach mixture and stir well.
5. Reheat the pan adding the knob of butter, pour in the egg mixture and cook, stirring gently until well set on the base.
6. Finishing cooking under the grill.
7. Slide onto a large plate for serving or cut into wedges and serve from the pan.
8. Mix remaining spinach with the olive oil and balsamic vinegar, season lightly and serve with the frittata and some crusty bread.