Hake baked in a peperonata sauce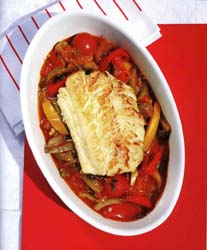 From The Accidental Chef - The Nick's Warehouse Cookbook, by Nick Price (Booklink, hardback, 144pp, colour photography throughout; £20)

Aka 'spetse fish' after a small island in the Saronic Gulf, Greece, where Kathy and I had our honeymoon 7 months late, but we were skint and had to save up after the event! We had a great couple of weeks. Kathy learned the finer points of ouzo drinking and I learned to love octopus and spetse fish.

When we got back home I tried many times to replicate the dish, as experienced on Spetse, and eventually succeeded.

4 pieces of thick hake about 170g per portion

Peperonata sauce

1 onion sliced
pinch of chilli flakes
1 of each red, green, yellow peppers, sliced
2 fresh tomatoes chopped (you can use tinned in winter)
3 cloves garlic crushed
1 tbsp basil chopped
1 tbsp dill chopped
375cl white wine
oil, salt, pepper, sugar tomato ketchup
serves 4

Heat the oil in a heavy saucepan. Add the onions, garlic and chilli flakes, soften and then add the peppers. Cook for 5 minutes, then add the tomatoes, herbs and white wine.

Cook for 30 mins and season with salt and pepper, then add a little tomato ketchup to give sweetness and balance.

Put a layer of sauce into a pyrex dish followed by the fish and then another layer of sauce.

Cover with foil or a lid and bake for about 20 mins.

To be authentic serve with saute potatoes and maybe a Greek salad -tomatoes, cucumber, feta red onion olives.