Hake Seared in a Sun-dried Tomato Tapenade by Clodagh McKenna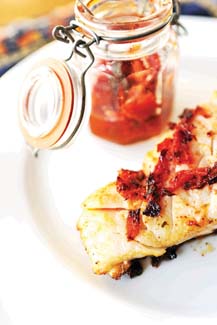 Clodagh uses hake for this recipe, but you can use any firm white round fish fillet.

SERVES 2

2 hake fillets
sea salt and freshly ground black pepper
olive oil

FOR THE SUN-DRIED TOMATO TAPENADE:

200g semi sun-dried tomatoes
80g freshly grated Parmesan
150ml olive oil
1 garlic clove
70g pine nuts

1 Preheat the oven to 190°C.

2 Make the sun-dried tomato pesto by placing all the ingredients in a blender and whizzing for 3 minutes.

3 Season the hake fillets with salt and pepper. Smear the skin side with the pesto.

4 Put a frying pan over a high heat and add a dollop of olive oil. After 1 minute, place the hake fillets in the pan, skin side up, and leave to cook for 2 minutes. Then place the pan in the preheated oven for 10 minutes. Serve straight away.

TIP FOR A TIPPLE: This dish is delicious with a glass of Traminer from Germany.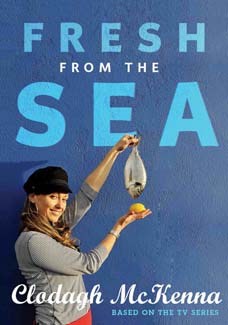 Taken from "Fresh From The Sea" by Clodagh McKenna