Jims Kitchen Christmas Cake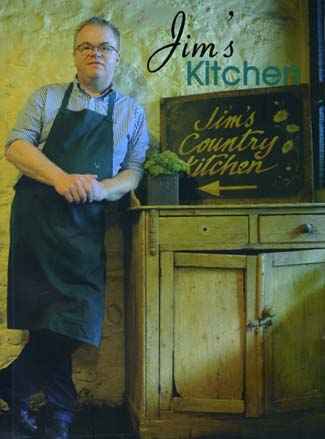 One rainy Monday last April, I called into Jim's Kitchen in Portlaoise and bought Jim Tynan's two cookbooks – Jim's Kitchen and Jim's Kitchen 2 – from this wonderful shop and restaurant. A place renowned for its friendliness, lovely homely food – and, especially, great Christmas baking and speciality ingredients, it was a bit quieter than it used to be (isn't everywhere), but everything seemed much the same as usual.

Yet, on Saturday 7th May, Jim closed the doors for the last time. The foodie world is still in shock – and hoping that, in time, Jim's Kitchen will re-open once again. Meanwhile, here is one of their range of Christmas cakes, from the first book.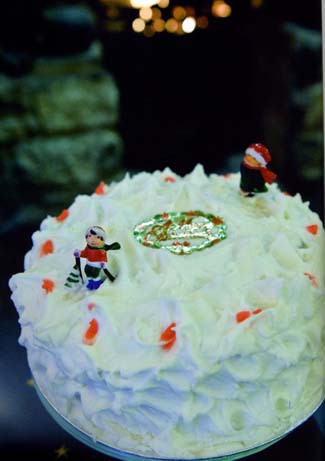 8oz/225g butter, chopped
10oz/280g dark muscovado sugar
10oz/280g plain flour
2 1b/900g luxury mixed dried fruit
4 large eggs, lightly beaten
4oz/112g whole blanched almonds
4oz/112g ground almonds
4floz/125ml brandy or sherry
1 lemon, finely grated rind & juice
1 orange, finely grated rind & juice
½ tsp baking powder
1 tsp mixed spice
1 tsp ground cinnamon
½ tsp nutmeg

Preheat the oven to 140°C.

Put the butter, sugar, dried fruit, citrus rinds and juices and brandy in a large pan and bring slowly to the boil, stirring until the butter has melted, then reduce the heat and let it bubble gently for 10 minutes, stirring occasionally. Remove the pan from the heat and leave to cool for about 30 minutes

Toast the whole almonds in a dry frying pan, tossing them until they are evenly browned (this helps to bring out the flavour). When cool enough to handle, chop them roughly. Stir the eggs and chopped and ground almonds into the cooled fruit mixture and mix well.

Set a sieve over the pan and sift the flour, baking powder and spices into the pan. Stir in gently but thoroughly until there are no traces of flour left. Spoon the mixture into a lined tin (8" square or 9" round) and press well into the corners.

Dip a large metal spoon into boiling water, and then smooth over the cake mixture to level. Bake for 3 -3½ hours until the cake is dark golden and firm to touch. Cover the top with foil if it starts to darken too much,

Leave to cool for 15 minutes then turn out onto a wire rack.

[When absolutely cold, wrap in greaseproof paper and store in a cake tin in a cool place until ready to decorate.]