Loin Of Venison With Celeriac Puree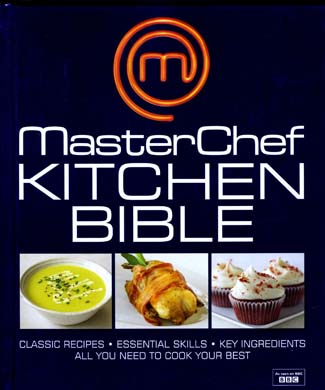 If advice is needed on any aspect of cookery – including game – the MasterChef Kitchen Bible (Dorling Kindersley, hardback, £26/€30) is a good port of call, and would make a fine gift for any of the reputed 9 million viewers of the BBC show.

The book gives advice on all aspects of running a kitchen, from choosing the best ingredients to buying the best ingredients, and includes 150 MasterChef skills classes covering essential techniques and cooking methods – and 100 modern classic recipes, all of them achievably impressive. This example comes from 2010 finalist, Alex Rushmer.

preparation time: 20 minutes
cooking time: 1 hour 30 minutes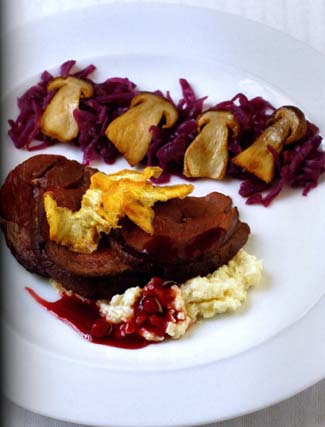 Serves 4

700g (1lb 9oz) loin of venison
1 tbsp olive oil
knob of butter
100g (3½ oz) porcini or wild mushrooms, cut into thick slices

for the cabbage

knob of butter
1 small shallot, diced
300g (10oz) red cabbage, quartered, cored, and sliced
1 apple, cored, peeled, and sliced
1 tbsp clear honey
3 tbsp red wine vinegar
100ml (3½ fl oz) red wine
200ml (7fl oz) chicken stock
salt and freshly ground black pepper

for the celeriac

1 celeriac, approx 800g (13/4lb))
juice of 1 lemon
3 tbsp double cream
25g (scant 1oz) butter
500ml (16fl oz) vegetable oil

for the jus

knob of butter
1 shallot, diced
8 juniper berries
50g (1oz) redcurrants
150ml (5floz) port
150ml (5fl oz) veal stock
2 tsp redcurrant jelly

1. For the cabbage, melt the butter in a large heavy saucepan, Add the shallot and cook for about 5 minutes to soften. Add the remaining ingredients and season. Cover with greaseproof paper and a lid, and braise over very low heat for 1½ hours, stirring occasionally

2. Peel the celeriac and shave off 4 strips to make crisps. Put in a bowl of iced lemon water and set aside. Dice the rest. Put in a pan with water to cover, salt, and lemon juice and bring to the boil. Simmer for 15-20 minutes or until soft. Drain and transfer to a blender or food processor. Add the cream, butter, and seasoning and purée. Keep warm.

3. For the jus, melt the butter in a pan. Cook the shallot for 3 minutes to soften. Add the berries and redcurrants, cook for 1 minute, then stir in the port and reduce by half. Pour in the stock and reduce again. Stir in the jelly. Pass through a sieve into a pan to keep warm.

4. Season the venison and fry in the oil for 10-15 minutes, turning once, Cook longer if you prefer your meat less pink. Remove the venison from the pan, leave to rest, and then slice, Add the butter and mushrooms to the pan and fry for about 2 minutes to cook through.

5. Just before serving, drain and dry the celeriac shavings. Deep-fry in the vegetable oil for 2-3 minutes until crisp. Drain on kitchen paper. Spoon the purée and cabbage onto 4 plates and top with the venison and mushrooms. Drizzle over the sauce and garnish with the crisps.