Maple Syrup Glazed Turkey Crown with Cranberry Stuffing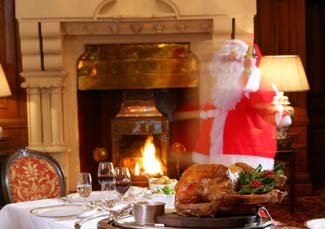 For many Christmas would not be complete without the traditional turkey, and anyone lucky enough to be spending Christmas at Ashford Castle this year will have the privilege of enjoying Chef Stefan Matz's interpretation of the festive favourites in one of the finest restaurants in Ireland.

Alternatively, those of us who are up for a bit of a challenge could try cooking his recipe at home... The turkey is marinated in a 'brine', and the gravy is based on a stock that takes several hours to make, so allow plenty of time for this in advance of cooking the turkey crown.

A 2.7kg/6lb turkey crown serves 6-8

Brine (marinade) for the turkey:

3 litres/ water
250g/9 oz salt
250g/9 oz sugar
200g/ 7 oz maple syrup
1 orange halved
4 bay leaves
10 black peppercorns
2 sprigs of thyme
1 sprigs of rosemary

1 turkey crown
80g/31/2 fl oz maple syrup for glaze

To Prepare the Brine for your Turkey

Heat the water with the salt and sugar, add all herbs and spices and bring to the boil. Remove the orange and spices and chill the brine.

Once the brine is completely cold, place the turkey crown upside down in a narrow deep tray and pour the brine over the turkey. Leave the turkey in the brine for 30 hours, turning after 15 hours so that both breasts are soaking up the brine evenly.

After 30 hours, pre-heat a very moderate oven, 160ºC/325ºF/gas mark 3. Roast the turkey in the oven at for approximately 2.5 hours - depending on size - to a core temperature of 75ºC (use a meat thermometer to check this).

No further seasoning is required.

Once cooked, glaze with maple syrup and, when the maple syrup has caramelised, serve with the cranberry stuffing and gravy.

Cranberry stuffing:

1 loaf of white bread without crust
½ onion peeled and chopped
450g/1 lb salted butter
200g/7oz dried cranberries (if not available use 100g/4 oz cranberry jelly)
Dash of cranberry vinegar if available.

Blend bread in a food processor, in batches, to make the breadcrumbs.

Sweat off the onion in butter, cooking over low heat, until soft. Add the breadcrumbs and cranberries, season with salt, vinegar and pepper to your liking. The stuffing can be cooked at the same time as the turkey crown, in a separate baking dish; shape it into balls for easier serving if you wish.

Gravy:

This takes some time to prepare but most of the time it needs little supervision, and it can be prepared ahead.

Chicken Stock

500g/ generous 1lb chicken bones (or turkey bones, if available)
1 large onion, diced
2 carrots, diced
200g/7 oz celery, diced
½ clove of garlic
50g/ 2oz tomato paste
200ml / 7fl oz red wine
10 black peppercorns
1 clove
2 bay leaves
100g/ 4oz unsalted butter, cubed

Roast off the bones in a hot oven. Add the vegetables and roast them until they are brown, then add the tomato paste to it and roast it for a minute.

Next add the red wine and reduce it until it is thick again - repeat this twice. Cover with water, add the spices and let simmer gently for 4 hours.

Strain and boil to reduce the stock until it has a dark colour and good flavour, adjusting seasoning if necessary.

Bring to the boil and add the butter cubes one by one, to make a thick and shiny sauce.