Mary's Boiled Fruit Cake / Stuffed Mushroom Parcels / Bean & Salmon Lunch Bowl Salad / Mushroom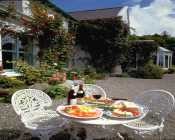 There's been a lot of talk about 'food tourism' lately but, as with 'gastropubs', giving something a trendy modern name doesn't make it new. The best inns have been providing good food for centuries and, certainly since (constructively critical) continental visitors followed in the wake of President de Gaulle's 1960s visit to Cashel House in Connemara, discerning visitors have been coming to Ireland for good food, both on the plate and in the wild – and especially at our country houses.

And the word 'country' is vital to remember as, however interesting and enjoyable it may be, and no matter how important it is to support the producers who are growing the reputation of our food, especially artisan food, good food alone is not enough for 'food tourism' to be a real success.

The 'quality, authentic experience' highlighted recently at the Euro-Toques annual food forum needs to extend to all areas affecting visitors, and the environment in particular – which means that the standard of planning (if it exists at all in many areas at present) must be raised dramatically and urgently to protect the natural beauty of Ireland, which – in addition to the friendliness of the people - is still the main attraction for visitors from abroad (and for Irish residents travelling here).

And we need to protect the 'clean green' environment with a view to increasing larger scale quality food production too, eg by resisting the threatened invasion of GMO crops which would endanger the development of the organic sector, which is not only a 'good thing' but a potential gold mine.


Mary's Boiled Fruit Cake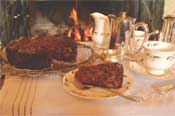 Cashel House Hotel
in Connemara may well have been the 1960s pioneer of today's 'food tourism', but they keep their feet firmly on the ground down there. Their lovely home-baked fruit cake, taken from
Irish Country House Cooking
(Epicure Press, EUR25,) would be perfect for afternoon tea or packed in a lunch box – and it keeps very well for up to 3 months. Makes one 8 inch / 20 cm diameter cake
8oz / 225g butter
1 bottle / 300ml stout
8oz / 225g brown sugar
1lb / 450g raisins
1lb / 450g sultanas
4oz /110g candied peel
12oz /350g plain white flour
1 tsp bicarbonate of soda (bread soda)
1 tsp allspice
4 eggs
Line a deep 8 inch / 20 cm cake tin with buttered greaseproof paper.
Put the butter, stout, sugar, raisins, sultanas and candied peel in a heavy bottomed saucepan. Bring slowly up to the boil, stirring to dissolve the sugar. Simmer for about 10 minutes, then remove from the heat, turn into a mixing bowl and leave the mixture to cool until it is warm rather than hot.
Meanwhile, preheat a warm oven, 325°F / 165°C / gas mark 3.
When the fruit and stout mixture has cooled enough, sift together the flour, bread soda and allspice. Beat the eggs lightly, then slowly add half of the eggs to the fruit and stout mixture. Next, fold in some of the flour, and add the remaining eggs and the flour mixture, folding gently all the time until all is incorporated and thoroughly mixed, with no flour showing. Turn into the prepared tin, smooth the top and bake in the preheated oven for 2 hours or until nicely browned and springy to the touch. To check if the cake is ready, test with a skewer, which will come out clean when it is cooked. Remove from oven and allow to cool in the tin; turn out when cold, then wrap in greaseproof paper and store in an airtight tin until required.
Stuffed Mushroom Parcels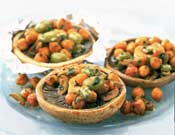 Who says life is too short to stuff a mushroom – not if it's a fine big flat field or Portobello mushroom, it's not, and this vegetarian dish makes a delicious snack or light meal for all.
Serves 4:
8 large flat or Portobello mushrooms
Stuffing:
45ml/3 tbsp soy sauce
15ml /1 tbsp clear honey
45ml/3 tbsp chopped fresh parsley
400g/14 oz can chickpeas, drained
16 pitted green olives, quartered.
Preheat a hot oven 190ºC, 375ºF, Gas no 5
To make stuffing: mix the soy sauce, honey and parsley together. Stir in the chickpeas and olives. Place the mushrooms on large squares of lightly oiled aluminium foil. Spoon the filling mixture onto each mushroom. Fold the foil to make loose parcels, sealing edges well. Cook in the hot oven for 10-15 minutes, and serve with a side salad and some fresh crusty bread.
Bean & Salmon Lunch Bowl Salad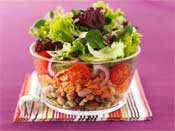 Make this versatile salad the night before and keep in the fridge, ready for older school children (or work) the next day – vary by using different beans and other main ingredients, eg cooked chicken or coarsely grated cheese, in place of the salmon. Accompany with some wholemeal bread for a complete, nourishing meal at a fraction of shop-bought prices.
Makes 2 lunches:
1 (420g) can mixed beans in brine, drained
3 tbsp ready made low-fat vinaigrette
2 tbsp chopped fresh parsley
1 (213g) can wild red salmon, drained
150g/5oz cherry tomatoes, halved
1/2 small red onion, sliced
175g/6oz cucumber, sliced
1 (120g) bag Italian salad leaves
Mix the beans with the vinaigrette, parsley and seasoning to taste. Place in the base of two a plastic containers with lids.
Remove the skin and bones from the salmon and lightly flake the flesh; spoon on top of the bean mixture. Top with the tomatoes, onion and cucumber. Finally heap the salad leaves on top.
Seal the container with the lid and chill until required. Lightly toss together before eating.
INGREDIENT OF THE WEEK: MUSHROOMS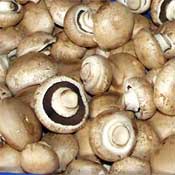 What Are They?
An edible fungi psalliota competris, widely grown on a commercial scale, they grow rapidly once given the right conditions. The three most popular mushrooms - button, cup and flat - are different stages of development of one mushroom type. Other cultivated mushrooms include Portobello (big and beefy), Chestnut Mushrooms (immature Portobello mushrooms, good flavour), Oyster Mushrooms (named for their unusual colour, with a very mild flavour; originally wild but now cultivated) and Shiitake mushrooms (originally wild Chinese mushrooms, now widely cultivated).
Where Do They Come From?
The Greeks and Romans both cultivated mushrooms in classical time (albeit as a hobby), and the Chinese probably grew them on logs at a much earlier period. Naturally occurring outdoors in grass pastureland or woodland at this time of year, they are grown all year round under controlled conditions. Mushrooms are a very important crop in Ireland and they can be grown successfully almost anywhere, without dependence on good soil or predictable weather.
Where Can I Get Them?
At this time of year they're there for the taking, in the wild, and a mushroom picking expedition makes a rewarding outing – just be careful to stick to the familiar types unless you are an expert. Sometimes guided mushroom hunts are available (Ballymaloe Cookery School's annual 'Forage' is on today), so keep an eye out for ads in the papers. And mushrooms of various types are, of course, available at farmers' markets and from all greengrocers and supermarkets, all year round.
What Can I Do With Them?
They are among every cook's most versatile ingredients and can be used raw or cooked in a huge variety of ways; a staple of the traditional Irish breakfast, they're also delicious on toast, stuffed, in pies and made into soups. Buy them as fresh as you can, put in a paper bag to avoid condensation, and store them in the fridge for up to four days. To prepare, wipe with a damp cloth and trim as required – avoid peeling if possible. Grill, fry, roast (with garlic butter perhaps), or use in a wide range of dishes.