Melon & Raspberries with Cinnamon Jelly and Fresh Basil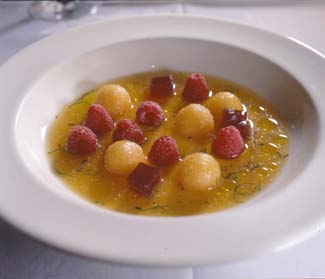 This pretty dish is one of those wonderfully versatile recipes that can be served as a starter or makes a refreshing way to round off a meal. It was given to me by Ross Lewis of Chapter One Restaurant and, while the port & cinnamon jelly would be extravagant for home use unless it's a special occasion, the same principle could be applied using a less expensive wine - or fruit juice could be used instead, or you could simply omit the jelly.

Wrap any unused jelly in clingfilm and store in the fridge for up 2 weeks.

***Cook's Tip: avoid pineapple when using gelatine, as it won't set.

Serves 4-6

1 good-sized ripe melon, preferably charantais
1 punnet raspberries
port & cinnamon jelly (see below)
To decorate: fresh basil leaves, grated nutmeg
For the Port & Cinnamon Jelly (optional)
14 leaves/1oz/4 tbsp gelatine
1 pint/600ml port, or other sweetish wine
½ pint/300 ml water
8 oz/225g caster sugar
squeeze of lemon juice
21/2 sticks cinnamon

A day ahead, make the port & cinnamon jelly:

First cover the gelatine leaves with cold water and leave to soften.

Meanwhile, bring all the other jelly ingredients to the boil and simmer gently for 5 minutes.

Remove the softened gelatine from the water with your hand, gently squeeze out excess water, then add to the hot mixture and stir until thoroughly dissolved. [If using powdered gelatine, soften by sprinkling over 3-4 tbsp cold water per tbsp/7g and continue as above.]

Strain the mixture into a shallow tray and allow to cool, then refrigerate for 12 hours until the jelly is very stiff. Turn out and cut into cubes.

Ahead of serving, scoop the melon into balls, then scrape all of the remaining flesh into a juicer or food processor and purée it.

Divide the melon purée between 4-6 shallow serving bowls and arrange the melon balls and raspberries on top.

To serve, arrange cubes of port and cinnamon jelly around the dish and decorate with finely sliced basil and a little freshly grated nutmeg.