Meringue Nests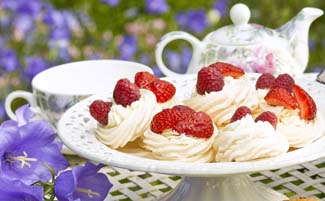 Can be made ahead and stored in an airtight container until needed; they will keep well providing they are completely dried out and have been allowed to cool thoroughly before packing.

Free range eggs, preferably organic, produce better volume.

2 large egg whites
100g caster sugar
250mls cream, whipped
150g berries of your choice e.g. strawberries, raspberries, blueberries

Preheat the oven to 150°C (300°F), Gas Mark 2.

Line 2 baking sheets with baking parchment to prevent the meringues from sticking.

Select a large mixing bowl and check that is really clean, with no trace of grease.

Add in the egg whites and whisk at full speed until stiff.

Add half of the sugar in spoonfuls, whisking to make a thick creamy mixture, then carefully fold in the remainder with a tablespoon, using a cutting motion to blend thoroughly while losing as little volume as possible.

Pipe or spoon on to the baking sheets in 1.5-2 inch/5-7cm circles. Place in the oven and cook for 10 minutes then turn the oven down to 100°C (225°F), Gas Mark 1/4 and cook for an hour until crisp and dry but not coloured.

Remove from the oven and allow to cool before topping with a spoonful of whipped cream and fruit.