Moonshine Organic Milkshake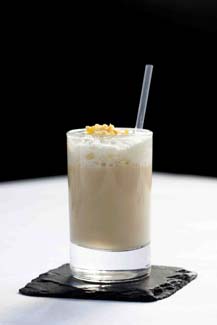 © Recipe created by Derry Clarke, L'Ecrivain, for the 2010 Irish Food Writers' Guild Food Awards

Serves 6

1 scoop Moonshine organic ice cream (see recipe; or use a good quality vanilla ice cream)
1 banana, sliced
225ml (8fl oz) Moonshine Organic Milk
50ml (2fl oz) Bailey's cream liqueur
whipped cream and hazelnut praline, to serve

Place the ice cream in a liquidiser with the banana, milk and Bailey's liqueur. Blend until frothy and divide among small glasses. Top each one with a little whipped cream and a dusting of hazelnut praline. Place a short straw in each one to serve.