Oaty Blueberry Muffins with Ginger and Pear Frosting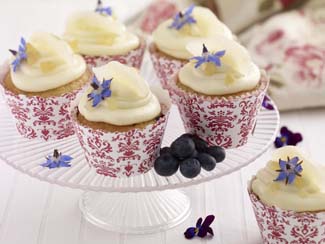 by Catherine Fulvio of Ballyknocken House and Cookery School for Flahavan's

"This is a great recipe to impress when the girls are coming around for an afternoon chat. That said, my children love to bake these with me too. The blueberries give them the added extra goodness."

Makes 16 depending on the size of your muffin cases

Ingredients

300g golden caster sugar
4 eggs
170ml sunflower oil
100ml milk
280g self-raising flour
100g Flahavan's Progress Oatlets
½ tsp ground ginger
½ tsp salt
150g blueberries
1 large pear, peeled and finely diced
For the topping
150g cream cheese
100g butter, softened
2 pieces stemmed ginger, very finely chopped
2 tsp ginger syrup
350g icing sugar
2 poached pears, thinly sliced for decorating
Edible flowers to decorate (optional)

Method

1. Preheat the oven to 170°C/Fan 150°C/Gas 3.

2. Place muffin cases in a muffin tray.

3. Whisk the sugar, eggs, milk and oil together until thick and pale.

4. Fold in the flour, oatlets, ginger and salt.

5. Stir in the blueberries and diced pear.

6. Spoon the mixture into the muffin cases.

7. Bake for 25 - 30 minutes or until lightly golden.

8. Place on a cooling rack.

9. Cream the butter in a large bowl, then add some icing sugar, followed by the cream cheese and the rest of the icing sugar. Spoon in the ginger syrup.

10. Pipe or spread over the cool muffins, decorate with chopped ginger and place slices of pear and a pretty edible flower on the top.

Tip: If using soft fruit like raspberries, just place fruit in freezer for about ½ hour and they will stay fairly whole when baked.