Orange and Raisin Pancakes with Crème Fraiche and Orange and Cardamom Salad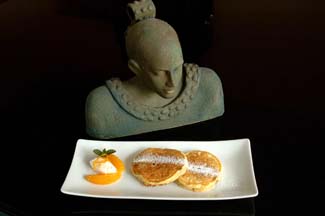 Drop scones – also known as Scotch pancakes, or sometimes pikelets – are a smaller, thicker kind of pancake and they're very versatile. They can be sweet or savoury and they're often served warm for tea, spread with butter and honey or jam, or as an accompaniment to sweet and savoury dishes.

These unusual breakfast pancakes from Kilgraney House at Bagenalstown, Co Carlow are more like a drop scone than a traditional pancake; the recipe comes from Irish Country House Cooking, The Blue Book Recipe Collection.

For the pancake batter:

6oz /170g self raising flour
3oz/ 85g raisins
3oz /85g caster sugar
zest of one orange
7 fl oz/200ml buttermilk
1 egg
2fl oz/ 50ml orange juice
1.5oz/ 40g melted butter
For the orange & cardamom salad:
½ pint/300ml water
½ lb/ 225g sugar
4 to 6 green cardamom pods, seeds removed and lightly crushed;
2 oranges

First make the cardamom syrup:

Heat the water, sugar and crushed cardamom seeds, stirring to dissolve the sugar, then boil everything together. Allow to cool, then strain through a sieve or muslin and store in a jar until required.

When ready to make the orange & cardamon salad, use a sharp knife to remove the skin and pith from the two oranges. Cut out the individual orange segments and place in a small bowl. Add a little of the cardamom syrup and place in a covered container in the fridge until required.

To make the pancake batter:

Mix the dry ingredients (flour, raisins, caster sugar, orange zest) together in a mixing bowl until they are well blended. Take a second bowl and add the buttermilk, egg, orange juice and melted butter; stir briskly until the mixture is smooth and blended.

Make a well in the centre of the dry ingredients and, using a whisk or wooden spoon, gradually blend in the liquids, thoroughly combining the two mixtures to make a smooth batter.

To cook the pancakes:

Heat a skillet or large frying pan over medium heat. Grease lightly with oil and spoon about 2 or 3 tablespoons per pancake onto the hot pan.

Spread the batter a little with the back of a tablespoon and cook until the under side is golden brown, then turn over and cook briefly until the pancake is cooked through but still moist.

Serve warm with the orange and cardamom salad some crème fraiche.