Plum and Mascarpone Tart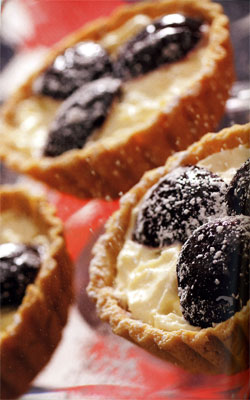 Plum and Mascarpone Tart - Crostata di prugne e mascarpone

From Catherine's Italian Kitchen by Catherine Fulvio (Gill & Macmillan paperback 254pp, €19.19)

Makes 1 large tart or 6 individual tartlets, serves 6-8

"Once the pastry is made, this is actually a particularly easy recipe. I also make this same tart with fresh strawberries or raspberries and it looks and tastes beautiful for a summer party."

for the pastry:

225g plain flour
110g cold butter, diced
30g icing sugar
1 egg
1 tbsp cold water

for the filling:

450g fresh plums, stoned and quartered
1 tbsp brown sugar
400g mascarpone
240ml double cream
2 tsp caster sugar
1 tbsp sherry
icing sugar, to decorate
sprig of mint, to decorate

1. Preheat the oven to 180°C. Butter a 23cm x 2.5cm loose-bottomed tart tin or 6 individual tartlet tins

2. To make the pastry, sieve the flour into a bowl. Add the diced butter and rub it in with your fingertips until the mixture resembles breadcrumbs. Sieve in the icing sugar and stir.

3. Beat the egg with the water and add to the flour. Mix until it forms a firm dough. Wrap in cling film and refrigerate for 20 minutes to let the dough rest before rolling.

4. Flour a work surface and roll out the pastry slightly bigger than the tin. Line the tin with the pastry and prick the base with a fork. Place in the fridge to rest for approximately 10 minutes. Remove from the fridge, line with parchment paper and fill with baking beans or rice. Place in the preheated oven for 10-15 minutes, until fully baked. Set aside.

5. Place the plums on a baking tray and sprinkle with the brown sugar. Bake in the preheated oven for 15 minutes, until they are cooked but still hold their shape. Allow to cool.

6. Mix the mascarpone with the cream, sugar and sherry. Refrigerate until needed.

7. Just prior to serving, spoon the mascarpone into the cooked pastry shell and place the plums on top, making them look as pretty as you can. Dust with a little icing sugar and decorate with a sprig of mint.