Potato Stir fry with Seaveg and Seafood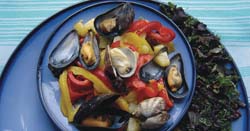 The ultimate no fuss dinner from Irish Seaweed Kitchen (€35) by Prannie Rhatigan - once the potatoes have been cooked (and sliced cooked day old potatoes also work well), the remainder of this delicious meal is quickly prepared in one pot. Can also be made vegetarian, without the seafood.

This recipe is from Manus McGonigle of Quality Sea Vegetables, Co Donegal, a seaweed harvester who enjoys the mix of seafood and seaweed readily available to him on the north west coast.

Seaweed Used: mixed Sea Vegetables

Serves 2

5 medium potatoes, peeled and chopped into bite sized cubes
10-12g (½oz) mix sea vegetables
50ml (1¾fl oz) olive oil
1 onion, sliced
1 garlic clove, crushed
½ each green, red and yellow pepper, sliced
1 red chilli, chopped seeds removed (optional)
2 portions smoked salmon, thinly sliced, or 2 portions of cooked seafood of your choice


1 Place potatoes in a steamer. Steam for about 5-10 minutes until almost cooked but still firm when pierced with a fork. Set aside.

2 Place the sea vegetables on a dry pan or wok over moderate heat and toast until crispy.

3 Remove from the pan.

4 Add the olive oil to the wok/pan. Add the onions, garlic, peppers and chillies and toss to cook evenly for about 2-3 minutes.

5 Add the potatoes and heat thoroughly to finish cooking.

6 Add in crisped sea vegetables and seafood of choice, toss ingredients together and serve warm.