Rhubarb Fool with Yoghurt & Granola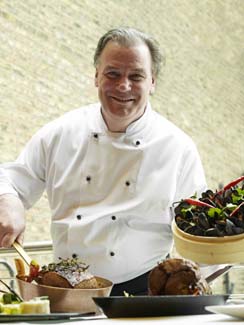 This simple seasonal recipe was created for the 2009 Eat Smart Week by Derry Clarke of the renowned Dublin restaurant, L'Ecrivain - which underwent a major refurb in April 2010.

Serves 4.

Ingredients:

50g sugar
100ml water
¼ cinnamon stick
1 star anise
150g peeled & diced rhubarb
200g natural yoghurt
1tsp organic honey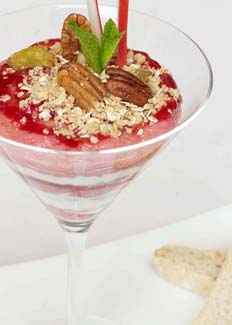 Method:

1. In a heavy based saucepan, make a light stock syrup with the sugar & water. Bring to the boil & infuse the cinnamon stick & star anise.

2. Add rhubarb & poach for 6-8 mins on a low heat until tender. Remove when cooked. Strain the cooking liquid and set aside.

3. Mix yoghurt with 1tbsp of the cold liquid, to sweeten.

4. Place the oats, flaked almonds & granola mix on a baking tray, drizzle with the honey & toast until golden brown

5. To serve, layer the granola, yoghurt and rhubarb in martini glasses, and then finish with a spoon of the rhubarb over the top. Decorate with a sprinkling of crunchy granola and a few pecans if you like.