Rhubarb Pavlova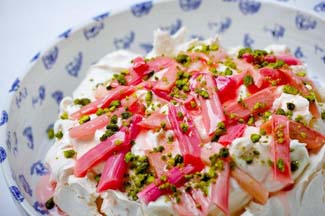 Delicious recipe for Rhubarb Pavlova by Eunice Power

Ingredients

4 egg whites
200g castor sugar
1tsp flour
1 tsp white wine vinegar
1 tsp rose water
2tbsp shelled pistachio nuts, chopped
225 ml cream softly, whipped.
Rhubarb compote (see separate recipe)

Pre-heat the oven to 180C

To make the pavlova, whisk the egg whites and sugar together until glossy and stiff.

Whisk in the cornflour, vinegar and rose water.

Line a large roasting tin with some greaseproof paper. Pile the meringue mixture onto it and form into a 9 inch/23cm round circle.

Turn the oven down to 120?C. Put the pavlova into the oven and bake for 1 ½ hours. Allow the pavlova to cool in the oven. This prevents it cracking.

To serve, pile the cream onto the top of the pavlova, then spoon the rhubarb compote on top, and sprinkle with pistachio nuts.