Roast Loin of Pork with Apple & Spinach Stuffing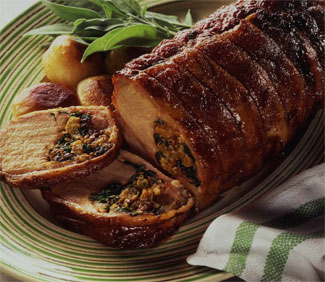 The three main ingredients in this recipe have been in common use in Irish kitchens for centuries and it still makes a delicious meal. Free range Irish pork production is increasing but it is slow to filter through to mainstream retail sales; a few specialist butchers stock it, but – like Irish apples - it's more likely to be found through farm shops, farmers' markets and online farm sales.

Serves 6-8

2kg/41/2 lb loin of free range pork
Salt and freshly ground black pepper
l onion, peeled and sliced
60ml/4 tbsp water
Juice of l orange

Stuffing:

50g/2oz dried apricots, chopped
50g/2oz spinach, blanched and chopped (or use 2-3 tbsp chopped parsley)
50g/2oz hard Irish farmhouse cheese, grated
l cooking apple, eg Bramley's Seedling, peeled and grated, or finely chopped
Grated rind of 1/2 of the orange

Topping:

15ml/l tbsp mild wholegrain Irish mustard, eg Lakeshore or Dalkey
30ml/2 tbsp Demerara sugar

Preheat the oven at 350ºF, 180ºC, gas mark 4.

Prepare the stuffing, by putting all the ingredients into a bowl and mixing well together.

If the joint has the skin on, remove it to cook separately for crackling.

Place the meat, fat side down, on a chopping board and spread the stuffing over it. Roll up and tie neatly with cotton string; season.

Put the joint in a roasting tin with the peeled and sliced onion and the water. Cook uncovered for about 35 minutes per 450g/1 lb.

If making crackling, score the pork skin, rub in a little salt and roast in a separate tin until brown and crunchy. The drippings are perfect for cooking roast potatoes in.

40 minutes before the end of the cooking time, pour off the liquid into a small saucepan and discard the onion. Add the orange juice to the liquid.

Spread the joint with mustard and sprinkle with the Demerara sugar. Return the joint to the oven and turn the heat up to get a crisp finish.

Boil up the juices, thicken if you like and serve with the sliced meat, roast potatoes and fresh vegetables.