Roasted Pepper with Boilie Cheese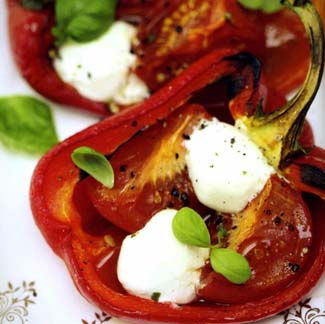 From Neven's Country Living Cookery Book (published by The Irish Farmers Journal ISBN-13: 9780953490226; rrp €19.95 204pp, full colour; available from bookshops, also online from www.farmersjournal.ie at €15 plus €3 p&p, with free shipping on orders of 2 or more).

Neven says, "The Boilie cheese I use is produced at a local creamery Fivemiletown, in Fermanagh. Boilie are fresh cheese curds that have been rolled by hand into balls; they are marinated in oil and herbs and are readily available in two varieties, one coming from cow's milk and the other from goat's milk. Both are soft and have a wonderfully delicate flavour. I just love them and like to use them to fill red peppers; although the stalks of the pepper are not edible, they do look attractive and help the peppers keep their shape."

Note: The olive oil and Maldon sea salt suggested in this recipe could now be replaced with Irish produced rapeseed oil (Neven is a fan of Donegal Rapeseed Oil) and Irish Atlantic Sea Salt, from West Cork.

Serves 4

INGREDIENTS

4 large red peppers
6 tbsp extra virgin olive oil
4 ripe tomatoes
200g jar Boilie cheese, drained
Maldon sea salt and freshly ground black pepper
Fresh basil leaves, to garnish
Lightly dressed salad leaves, to serve

METHOD

Preheat your oven to 180°C (350°F), Gas mark 4. Cut the peppers in half and remove the seeds, but leave the stalks intact. Arrange the pepper halves in a lightly oiled baking tin.

Place the tomatoes in a bowl and pour boiling water over them. Leave them for one minute, then drain and peel the skins off. Cut into quarters and place two quarters into each pepper half.

Season the filled pepper halves and divide the remaining olive oil on top of them. Roast for 30-40 minutes, until the peppers are completely tender and lightly charred around the edges.

Preheat the grill.

Place equal amounts of the Boilie cheese on top of each of the peppers.

Grill for 2-3 minutes or until the cheese is lightly golden. Transfer the peppers to plates and spoon over all of the cooking juices. Garnish with fresh basil and serve with the salad leaves.