Rudd's Warm Bacon Salad with Black Pudding & Mustard Dressing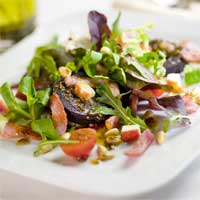 Warm salads make versatile starters or light meals at any time of year and this is a favourite variation on a classic combination of ingredients.

Serves 4 as a starter, 2 as a main course:

8 rashers of Rudd's back or streaky bacon (or similar premium rashers), trimmed & chopped
1 tbsp olive oil
4 slices of Rudd's black pudding (or similar premium pudding)

Dressing:

1 tbsp Irish wholegrain mustard
1 tbsp vinegar (balsamic, wine or sherry)
3 tbsp sunflower oil
1 tbsp extra virgin olive oil
Freshly ground black pepper

To serve:

1 small lettuce, washed & dried, or a pack of mixed leaves
12 cherry tomatoes, whole or halved
1 red-skinned eating apple, diced (optional)
1 tbsp toasted pine nuts (optional)

Heat the oil and cook the bacon in it for a few minutes, until beginning to crisp. Remove from the pan and keep warm.

Grill or fry the black pudding until crisp; keep warm.

Add the mustard and vinegar to the juices in the pan, and bring to the boil, stirring, then blend in the oils to make a sauce; season to taste with a good grinding of pepper.

Divide the salad leaves and tomatoes between four serving plates, and arrange the warm bacon and black pudding on top (the black pudding may be quartered, or crumbled if it is inclined to break up);

dice the apple, leaving the skin on, and scatter around the salad, then drizzle the warm dressing over.

Sprinkle with the toasted pinenuts and serve immediately, with some fresh crusty bread to accompany.


Rudd's - Taste and Tradition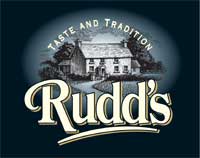 Based in Birr, Co. Offaly, the
Rudd's
range of dry cure rashers, premium pork sausages and black and white pudding are hand crafted to unique, traditional Irish farmhouse recipes.
Only the finest Irish ingredients are used and all products are free from colouring agents and artificial flavourings. The Rudd's brand is a firm favourite of lovers of quality Irish food.