Seafood Paella by Clodagh McKenna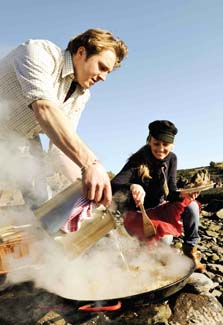 "A beautiful-looking, robust dish, paella is served all over Spain in many different forms, but its place of origin is Valencia," says Clodagh McKenna in Fresh From The Sea. "The main ingredient is rice, typically short-grained calasparra rice grown in the mountains of the Spanish province of Murcia.

A traditional paella pan is anything from seven inches to a yard across, with low sides about an inch and a half high that flare out slightly at the top and two large handles at the side. The pans don't come with a lid because paella is not cooked with a lid on.

Usually made of carbon steel, they do require seasoning before cooking and will rust if they are left wet, so do wipe them with a coating of olive oil after cooking. The authentic way to cook paella is over an open barbecue with kindling wood, but it tastes just as good cooked well in a domestic kitchen.

The main ingredients of a typical Valencia paella are chicken, rabbit, tomatoes, green beans, saffron and sweet paprika. However, there are many varieties of paella, with prawns and shellfish added in the coastal regions – which I am partial to. The starting point with any paella is the softened sweet onions, garlic and peppers.

This is called the sofrito – this takes a little time, but it's an important stage because if the onions aren't softened and sweet, it affects the flavour of the dish…While a risotto is constantly stirred, paella is left to cook untouched and absorb the liquid, just given a gentle shake halfway through…

I love paella not just because of the delicious taste, but because I think it is an enormously social dish, shared by families and often served at falles (local fairs) and at big picnics. In Spain, there are competitions to cook the largest paellas – I believe the biggest one was cooked in Valencia. It measured 20 metres in diameter and was eaten by 100,000 people. You can't get more convivial than that!"

SERVES 12

olive oil
20cm piece of Gubbeen chorizo, sliced
2 onions, diced
4 garlic cloves, crushed
500g paella rice
sea salt and freshly ground black pepper
1 tsp paprika
1l fish stock, kept hot
pinch of saffron
500g monkfish
1kg mussels, cleaned and de-bearded
10 prawns, left whole, raw and unshelled
6 red piquillo peppers
2 lemons, cut into wedges to serve

1 Heat a large paella pan over a medium heat. Add a drop of olive oil followed by the chorizo. Leave to crisp for about 5 minutes, then add the onions and garlic and cook for a further 10 minutes.

2 Stir in the rice and season with salt and pepper. Add the paprika, hot fish stock and saffron and leave to simmer for about 15 minutes.

3 Scatter the pieces of monkfish over the rice and push under the surface with the back of a spoon. Lay the mussels and prawns over the top and simmer for another 10 minutes, until the mussels have opened and the prawns are pink.

After 5 minutes, lay the red piquillo peppers on top, to warm through. Serve with lemon wedges around the pan.

TIPS:

• You can add mussels, shrimps, hake – practically any kind of fish – to this dish
• If you can't get your hands on piquillo peppers, then just slice up red peppers and add when you're cooking the onions.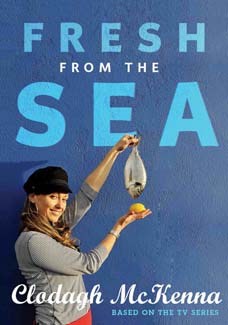 Taken from "Fresh From The Sea" by Clodagh McKenna