Seafood Paella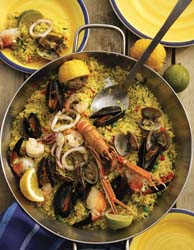 Alaria and sea spaghetti add the final layer of seafood flavour to this seafood dish, contributed to Irish Seaweed Kitchen (€35) by Prannie Rhatigan by Donegal medics Paul and Bella Stewart.

Great for a special occasion and even more idyllic if you can cook it outdoors...

Seaweed Used: Alaria (the familiar wavy brown fronds, very widely available and used extensively in Irish Seaweed Kitchen) and sea spaghetti

Serves 4

2-4 tablespoons olive oil
1-2 tablespoons butter
1 medium onion, chopped finely
4-6 cloves garlic, sliced finely
450g (1lb) long grain rice, white
4-5 teaspoons sea spaghetti, dried and ground (instructions on bookmark guide)
2-3 teaspoons turmeric, or 1 teaspoon crushed saffron
1 litre (1¾ pints) vegetable stock
125g (4¼oz) garden peas
1 red pepper, diced

Selection of fish:

2 medium squid, cut into strips
24 mussels, 6 per person, scrubbed and beards removed
A mix of shellfish and crab claws in season

To serve:

parsley, chopped
1 teaspoon Alaria, dried and ground
2 organic lemons and/ or limes, quartered

1 Heat half the olive oil and half the butter in a large frying/ paella pan over moderate heat, add the onion and fry gently for about 2 minutes. Add the garlic and cook for a further 2 minutes. Remove with a slotted spoon and set aside.

2 Add the rice, sea spaghetti and turmeric, if using, and mix well. If using saffron add with the stock.

3 Return the onion and garlic to the pan and add the vegetable stock. Reduce the heat and cook slowly for 10-15 minutes, adding the peas and red pepper towards the end of the cooking time.

4 When the rice is almost cooked, place the remaining butter and oil into a separate pan over moderate heat. When hot, add the squid and cook for 2-3 minutes. Remove with a slotted spoon and add to the rice dish.

5 Add the prepared mussels to the pan and cook until they open, then transfer to the rice dish.

6 Cook any other selected seafood and add to the cooked rice dish. Mix gently.

To serve:

Arrange the quartered lemons and sprinkle with parsley and Alaria. Serve from the paella pan in the centre of the table and leave extra Alaria and parsley in small dishes for sprinkling.