Shellfish Soup and a dessert of Rhubarb & Orange Fool

A Weekend Away

The idea of spending a few days in the country begins to seem very attractive as the early spring days brighten - and judging by the amount of activities offered by guesthouses, country houses and hotels all over the country, more and more of us like to spend time doing something definite while we're away. If you're a golfer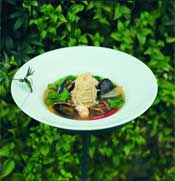 there's an ever-growing range of places to choose from, of course, and there are masses of other options. Tuition is often available – covering all kinds of things from cookery and wine appreciation to horse riding, archery and falconry, so taking up a new hobby this spring could be the start of a lifelong passion – and there are usually plenty of things for a non-participating partner to do too.

Take fishing for example, something that gets you really close to nature and a surprising number of people are passionate about – you could head off to a wonderful country house such as Longueville House at Mallow – which has its own Fishery on a beautiful, two-mile stretch of the renowned Munster Blackwater, one of Ireland's finest salmon rivers (season 1st Feb-30 Sep for salmon, 15 Feb-30 Sep for brown trout). Tackle and licences are available, and ghillies (who need to be booked in advance), also provide tuition. And – here is the best part - any fish caught may be smoked or cooked in the famous Longueville kitchen by chef-proprietor William O'Callaghan and his team, so perhaps you could end up enjoying your catch in The Presidents Restaurant, in the company of specially commissioned portraits of all our past presidents. Non fishing partners will have no trouble filling their days either, with Cork (where the English Market alone is worth a day out) and Kinsale just a short drive away – and Longueville itself a seriously comfortable place to be if you just feel like loafing around…

Shellfish Soup with Coriander & Parsley

Salmon and trout from the Blackwater is often on the menu at Longueville, of course, but William O'Callaghan also uses a lot of seafood landed at nearby fishing ports like Kinsale and Kenmare. This beautiful and unusual soup is typical of William's creative style and, with shellfish so good at this time of year, it's a perfect time to make it.

Serves 4 as a light meal:

32 small mussels
4 scallops, taken out of the shells
4 oysters, opened and juices reserved
8 prawns, cooked & shelled
2 tablespoons chopped shallots
1 glass dry white wine
1 tablespoon chopped parsley
1 tablespoon chopped coriander
Lemon juice to season.
Vegetable stock:
4 carrots, chopped
2 celery sticks, chopped
4 onions, chopped
2 garlic cloves, chopped
2 pints/1.2 litres water
1 star of anis (optional)
1/2 teaspoon coriander seed, crushed
1 sprig of thyme
1 bay leaf.

First make the stock: put all the prepared stock ingredients into a large pan, bring to the boil and simmer for 20 minutes. Strain and measure off 14 fl oz /400 ml.
Meanwhile, de-beard the mussels and scrub well, then rinse three or four times; discard any which do not snap shut. Remove the coral from the scallops and clean the flesh very well; slice each into three or four pieces.
Place a dry saucepan onto the heat and wait until it is very hot. Put the mussels into it and cover with a lid. Shake them up after 30 seconds. When the mussels begin to open, add the shallots and then the white wine; discard any mussels, which do not open. Add the 14 fl oz/400 ml strained vegetable stock after one minute, and then the prawns, scallops and the oysters, with their juices. Bring back up to the boil and add the parsley and coriander. Season with lemon juice and serve immediately in warmed soup plates.

Ingredient of the Week: FORCED RHUBARB

What is it?
Although usually used in sweet dishes, rhubarb is not a fruit but classed as a vegetable. It grows easily in Ireland and is still a familiar feature in gardens all over the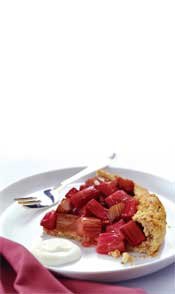 country. It dies down in winter and now, as it begins to re-emerge for the new season, the new stalks will be at their pinkest and most tender. To get the most of this early crop, rhubarb crowns can be protected with newspaper or straw then covered - ideally with beautiful clay pots made especially for the purpose, but anything like large upturned boxes or bins will do; the stems then shoot up much earlier than usual and are exceptionally pink and sweet. For an even earlier crop the crowns can be dug up in the late autumn, re-planted in large pots (or simply in black plastic bags) and brought in to a shed or greenhouse, then covered to exclude light.

Where can I get it?
Forced rhubarb should be easy to find over the next few weeks – the bright pink stems are now appearing on the shelves of greengrocers and supermarkets, and they should also be available from stalls at farmers' markets.

What Can I do with it?
It can be cooked in any of the ways used for mature rhubarb later in the season but his new season 'fruit' is so pretty that it is best to choose cooking methods that show it off to advantage. It is not as bitter as the later crop so less sugar is needed in cooking, and it has an affinity with orange juice, which will add natural sugar. To use as a compote, cook it very gently (eg in a slow cooker) so that it doesn't break up, with water and/or orange juice and a little ordinary sugar (the sweetness can be adjusted at the end); show it off in a glass bowl and serve with crème fraiche. It also looks very pretty in traditional pies and crumbles, or used as a sauce - with oily fish such as mackerel, for example.

SHORT RECIPE: Rhubarb and Orange Fool

Fools can be made with any kind of puréed fruit mixed with whipped cream. egg custard or thick natural yogurt – or with a mixture of cream and custard or yogurt. They are especially successfully made with sharply flavoured cottage garden produce like rhubarb, gooseberries and blackcurrants; the cream or custard takes the hard edge off the fruit, while still leaving enough 'bite' to be interesting. The partnership of rhubarb and orange is well-balanced in this easy recipe (a dash of an orange flavoured liqueur is also very acceptable), and the early season pink rhubarb makes it a very attractive colour.

Serves 4-6.

l lb/450g rhubarb
l large orange
4 rounded tablespoons clear honey
1/2 pint/300 ml double cream or thick natural yogurt, or an equal mixture of both.

Wash the rhubarb and cut it into 1"/2.5 cm pieces. Finely grate the zest from the orange and squeeze the juice. Put the rhubarb into a saucepan with the grated rind, strained juice and honey; stir over low heat until the honey has melted, then cook very gently until the rhubarb is tender. Purée in a blender, or by sieving, and leave to cool. If using cream, whip it until thick. Using a metal spoon, fold in the cream and/or yogurt gently but thoroughly. Put into serving glasses and chill. Serve with crisp biscuits.

Hint: Sticky semi-liquid sweeteners like honey, syrup or black treacle are easier to measure if you use a heated spoon.