Shepherds Pie wth Watercress Champ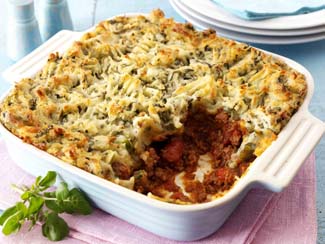 Comfort food at its best, this recipe is from chef Antony Worrall Thompson, who is "… a huge fan of watercress; its distinctive mustardy flavour suits a variety of different dishes, from meat, fish and stir fries to soups and salads."

This pie should be made with lamb, he says, hence the reference to shepherds, but traditionally it was normally made with the leftovers of the Sunday joint whatever that happened to be. "I often serve a variation on the classic using cauliflower cheese instead of mashed potato which is lower in carbohydrate. However, there's really no comparison for the real thing - just serve a big dollop and enjoy!"

Serves 6

INGREDIENTS

1 tbsp vegetable oil
500 g/1 lb 2oz lean minced lamb
1 large onion, chopped
1 tbsp plain flour
400g/14oz can chopped tomatoes
300ml/1/2 pint lamb, beef or chicken stock
2 fresh bay leaves
1 tsp dried thyme
1 tsp anchovy essence (optional)
2 tsp Worcestershire sauce

For the Mashed Potatoes

700 g/11/2 lb floury potatoes such as Maris Piper, peeled and cut into chunks
150ml/1/4 pint milk
4 spring onions
50g/ 2oz unsalted butter
1 egg yolk
200g/ watercress, roughly chopped
salt and freshly ground black pepper to taste

1 Preheat the oven to 180ºC/Fan 160º/Gas 4. Heat the oil in a heavy based pan, add the mince and cook over a fairly high heat until evenly browned, breaking up any lumps with a wooden spoon. Add the onion and cook for 5 minutes until softened but not browned, stirring occasionally.

2 Add the flour and cook stirring for 1 minute. Then stir in the chopped tomatoes, stock, bay leaves, thyme and anchovy essence, Worcestershire sauce and a good pinch of pepper. Bring to the boil, stirring occasionally, then reduce the heat, cover and simmer for 25 minutes or until the lamb is tender and sauce thickened and rich. Season to taste

3 Whilst the lamb cooks, cook the potatoes in boiling salted water for 15-20 minutes, or until tender. Drain the potatoes, then return to the pan and mash until smooth. Cook the spring onions in the milk for 3-4 minutes then tip into the mash with the butter, egg yolk and watercress and stir through with a fork, until it is nice and fluffy. Season to taste.

4 Spoon the lamb mixture into a 3-pint/1.75 litre pie dish, discarding the bay leaves. Spoon the fluffy watercress mash on top and fluff up with a fork. Bake for 25-30 minutes, or until bubbling and golden brown. Serve hot with green vegetables.

Cook's tip: If you are running short on time, after smoothing the hot mash on top of the mince you can skip the baking stage and just brown it under a medium hot grill for 5 minutes until crisp.