Soft Boiled Eggs And Smoked Salmon Bagels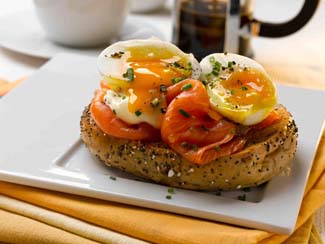 Whether for brunch, lunch or a light supper, this Bord Bia recipe is just the kind of easy 'between' meal that's needed over Christmas when unusually large meals tend to be followed by a long gap.

If you have smoked salmon in the house it is ideal for these bagels, but it could be replaced with slices of cooked ham; or try wilted spinach for a vegetarian alternative.

Serves 4

4 large eggs
2 bagels, granary if available
butter, for spreading
200g/7 oz leftover salmon (or a packet of smoked salmon slices)
2 tablespoons crème fraiche
A little salt and coarsely-ground black pepper
1 teaspoon chopped fresh chives

Place the eggs in a small pan of water and boil for 5 minutes, then drain and plunge into a bowl of iced water. Set aside for 10 minutes as this will make them much easier to peel.

Preheat the grill to high. Cut the bagels in half and arrange on a grill rack. Cook for 1-2 minutes until toasted. Spread with a little butter.

Place the toasted bagel halves on warmed plates and ruffle the smoked salmon slices on top. Add half a tablespoon of crème fraiche.

Shell the eggs and cut each one in half, then arrange on top of the smoked salmon and crème fraiche.

Season lightly and sprinkle with the chives to serve.